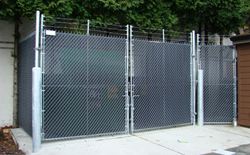 QS Fencing Company's chain-link fences are strong, affordable and easy to install.
Vancouver, BC (PRWEB) March 25, 2015
Vancouver Police Department reported to the Police Board on February 18, 2015 that the city's property crime rate, especially that of business break-ins, have increased in the last couple of years (as reported in the Vancouver Sun - http://goo.gl/kLDK9t). One of the biggest reasons for property crimes is inadequate security of businesses and other commercial units. In order to help avoid commercial crime, QS Fencing's latest security solutions provide adequate protection within an affordable cost. Installing these commercial fences, automatic gates and chain-link fences can ensure the safety of shops, cafes and other buildings, warding off offenders and trespassers. In this way, QS Fencing Company helps provide security to its clients amidst rising crime rates.
QS Fencing Company offers a wide array of security solutions for businesses in Vancouver, BC. These include railings, automatic gates, robust chain-link and long-lasting aluminum fences. Despite being strong and durable, such security fences do not block out the commercial unit nor make it look ugly and unwelcoming. Instead, security solutions by QS Fencing further enhance the visual appeal of the property.
An example is QS Fencing Company's chain-link fences. These fences are strong, affordable and easy to install. Moreover, they come in a variety of colored vinyl coatings, such as green, black brown and even blue or white. Since they are see-through, they can be installed outside schools, playgrounds, office buildings, shops, restaurants and workshops, without blocking the view and suffocating the people inside.
About QS Fencing
Established in 2010, QS Fencing is a young family-owned business that aims to provide quality products and superior service. It is a Vancouver Fencing Company that is licensed and insured. All their employees are WCB insured as well. QS Fencing serves the geographical areas of Vancouver, West Vancouver, North Vancouver, Burnaby, New Westminster, Coquitlam, Port Coquitlam, Port Moody, Maple Ridge, Richmond, Surrey, and Delta, BC.
To place an order at QS Fencing, visit http://www.qsfencing.ca or call (604) 345-5145.