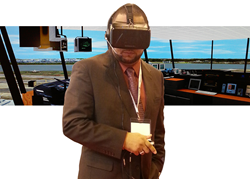 The Oculus Rift has clearly reached a level of maturity where we expect it to be a viable alternative to traditional large screen display solutions within the next 12 months, said Seth Brown, CEO Adacel
Madrid, Spain (PRWEB) March 19, 2015
Last week at World ATM in Madrid Adacel demonstrated the integration of the Oculus Rift Virtual Reality headset into the Company's MaxSim Air Traffic Control tower simulator. The integration includes full head and body tracking and enables the wearer a 360-degree field of view out of a simulated Air Traffic Control Tower. The user can move around within the tower cab and also interact with the aircraft via Adacel's Lexix advanced speech recognition system.
The demonstration was a preview of Adacel's next generation image generation technology, which will be rolled out to user's in the field over the next several months.
In addition to support for immersive technology such as the Oculus Rift, Adacel's new visual system provides a host of new features, which greatly enhance realism - including volumetric clouds, real-time shadows, and other visual effects.
"While the Oculus Rift is still in the development stage, the technology has clearly reached a level of maturity where we expect it to be a viable alternative to traditional large screen display solutions within the next 12 months," said Seth Brown, CEO Adacel.
The use of the Oculus Rift enables highly immersive ATC tower training to be conducted on a single computer without the need for a room sized simulator.
About Adacel
Adacel is a leading developer of operational air traffic management systems, speech recognition applications and advanced ATC simulation and training solutions. The Company's products are widely used throughout Europe, North America, the Middle East and the Asia Pacific region.