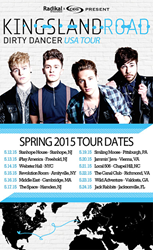 New York, NY (PRWEB) March 12, 2015
With the arrival of UK's pop sensation Kingsland Road and the upcoming release of their debut album "We Are The Young," available May 5, 2015 via Radikal Records, mainstream pop will be ignited once again. Exporting their brand of fun upbeat indie-pop by way of the British phenom-building TV Show The X-Factor UK, which created stars such as Matt Cardle, Leona Lewis, Janet Devlin, and of course, One Direction, these four lads earned early support and a massive fan base when they joined the show's tenth season in 2013. Gary Barlow, lead vocalist of Take That, called the group "ready-made hit boy band." Barlow mentored the group and brought them to UK acclaim. In support of the upcoming album release, Kingsland Road will be embarking on their very first US tour. The group will be kicking off the tour on the East Coast on May 12th, hitting New England and the Southeast down to Jacksonville, Florida.
After a shocking early exit from the show, the lads decided to pick themselves up and do it on their own, spending the next six months touring and putting all of their earnings into studio time and self-funding their own label. Co-writing all the tracks, Kingsland Road worked with some of the best writers and producers in the industry, including Ollie Green, Lewis Mokler (One Direction), Jason Perry (McFly), Jamie Seller (The Wanted) and Cam Blackwood (George Ezra). The result, "We Are The Young" is an album full of high energy, exuberant tracks that are just as catchy as they are fun. From the anthemic opening track "We Are the Young," to the R&B inspired "Misbehave," to the soaring ballad "Heaven Knows," the album kicks off in high gear and maintains its stamina without losing its creative and melodic edge. The first single "Dirty Dancer" is an infectious pop track, which is available for purchase now along with a "Dirty Dancer - Feet Won't Touch Mix" and radio edit.
With support from celebrities such as Gary Barlow, Ellie Goulding, and James Corden, Kingsland Road is already on track for a quick rise to fame. If the perfect pop of their debut "We Are The Young" is any indication, it's leading them down the road to stardom.
Kingsland Road is Matt Cahill, Joe Conaboy, JJ Thompson and Josh Zaré. Their debut album, "We Are The Young," will be released on May 5, 2015 via Radikal Records. Kingsland Road will be embarking on their "Dirty Dancer USA Tour," which kicks off on May 12th in Stanhope, New Jersey. A full list of tour dates can be seen below. For more information regarding Kingsland Road's tour and ticket information, please visit: http://www.KingslandRD.com.
May 12 – Stanhope, NJ @ Stanhope House
May 13 – Freehold, NJ @ iPlay America
May 14 – NYC @ Webster Hall
May 15 – Amityville, NY @ Revolution Music Hall
May 16 – Cambridge, MA @ Middle East
May 17 – Hamden, CT @ The Space
May 19 – Pittsburgh, PA @ Smiling Moose
May 20 – Vienna, VA @ Jammin' Java
May 21 – Chapel Hill, NC @ Local 506
May 22 – Richmond, VA @ The Canal Room
May 23 – Valdosta, GA @ Wild Adventure
May 24 – Jacksonville, FL @ Jack Rabbits
About Radikal Records:
Established in 1990, and based just outside of NYC, Radikal Records is one of the United States' leading independent record labels. In business for more than 20 years, they are focused on marketing, promoting, and distributing artists – not only to audiences in the USA, but also on a global basis to partners world-wide. Artists included on their roster over the years include: 2 Unlimited, N-Trance, Zombie Nation, ATB, Yello, Scooter, Schiller, Blank & Jones, Cosmic Gate, Sinead O'Connor, Ayah Marar, and many others. For more information visit:http://www.radikal.com