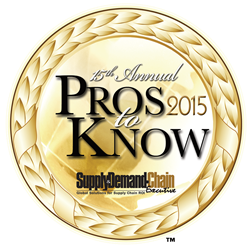 We're passionately committed to helping our clients realize the full potential of their distribution operations and are delighted that Supply & Demand Chain Executive has recognized the expertise and success of these Commonwealth team members
Boston, MA (PRWEB) March 12, 2015
Commonwealth Supply Chain Advisors, a leading supply chain consulting firm, today announced that executives Dan Brunner, John Neblett and Ian Hobkirk have been recognized as Pros to Know for 2015 by Supply & Demand Chain Executive magazine.
The Pros to Know Awards recognize supply chain executives that are leading initiatives to help prepare their companies' supply chains for the significant challenges of today's business climate. This year's list includes the 2015 Provider Pros to Know—individuals from software firms and service providers, consultancies or academia, who have helped their supply chain clients or the supply chain community at large prepare to meet these challenges—and Practitioner Pros, who do the same within their own companies.
"We're passionately committed to helping our clients realize the full potential of their distribution operations and are delighted that Supply & Demand Chain Executive has recognized the expertise and success of these team members," said Commonwealth Director of Business Development Jennifer Thomas.
The Commonwealth leaders recognized as Pros to Know collectively have over 75 years of experience serving their clients and the supply chain community at large.
Dan Brunner is Vice President of Consulting at Commonwealth. Dan has a track record of building, leading and growing world-class consulting teams that help clients turn distribution centers into powerhouses of efficiency. Dan applies his deep knowledge of the interdependencies driving distribution performance to help his clients squeeze the greatest returns from their distribution investments. He brings more than 25 years of experience planning, designing, and implementing performance improvements in distribution centers.
John Neblett leads Commonwealth's Warehouse Management Systems (WMS) practice. John's 30 year career has been dedicated to helping companies successfully transform their supply chains with the use and proper deployment of technologies such as material handling automation and supply chain execution systems, including WMS. John has developed a Project Preparation methodology that has been used by many of the nation's best-known brands to successfully implement new systems.
Ian Hobkirk is Managing Director of Commonwealth. Ian has helped over 100 clients unlock higher levels of performance in their distribution centers. As a former industry analyst, Ian brings a broad and objective perspective on the full spectrum of distribution solutions available to help his clients. Mr. Hobkirk recently led the development of an innovative new class of analytical tools capable of "what if" analysis for designing distribution centers with infinitely varied demand forecasts to help his clients make faster, more informed decisions about facility design.
About Supply & Demand Chain Executive
Supply & Demand Chain Executive is the executive's user manual for successful supply and demand chain transformation, utilizing hard-hitting analysis, viewpoints and unbiased case studies to steer executives and supply management professionals through the complicated, yet critical, world of supply and demand chain enablement to gain competitive advantage.
About Commonwealth Supply Chain Advisors
Commonwealth is a supply chain consulting firm that provides companies with the technical expertise and objective guidance required to design, implement and operate successful distribution centers.
Commonwealth is based in Boston and works with clients across the globe. For more information, visit http://www.commonwealth-sca.com or contact Jennifer Thomas at (617) 948-2153.