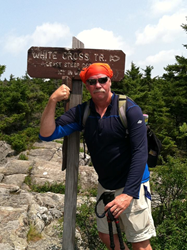 "I'm on my way! 5 years from the date I was diagnosed with Stage 4 cancer, I stepped off Springer Mountain. I was overwhelmed with emotion. I am blessed."
Hartford, CT (PRWEB) March 23, 2015
For years, Connecticut Community for Addiction Recovery (CCAR) Executive Director, Phil Valentine of Manchester, Connecticut has devoted himself to sharing his recovery from alcohol and other addiction in an effort to help others.
On March 19th, 2015, exactly five years after Phil was diagnosed with stage four cancer of the tongue; he stepped off Springer Mountain, GA and embark on a half-year long journey, walking the Appalachian Trail, spreading the powerful message of recovery throughout the nation. He needs to travel an average of 12-15 miles per day to finish the hike at Mt. Katahdin, ME, a distance of 2189 miles or about 5,000,000 steps. Along the way, Phil will speak with local community leaders about recovery along the route.
With his cancer now in remission and in his twenty-eighth year in recovery from drugs and alcohol, Phil is living proof that with daily recovery and a positive outlook, you can overcome any obstacle.
As Phil puts it, "This is the biggest adventure I have taken in my life. I have no idea whether I can do the whole thing; I have no idea what it is going to be like, but I have a lot of people rooting for me and a lot of support. I like my chances."
March 19th, 2015, Phil will step off the southern terminus, located at Springer Mountain Georgia and make his way north, 2,185 miles. Phil has calculated that to be about 5,000,000 steps up and down mountains for about 6-months, putting a face and a voice on recovery.
Phil will be documenting his experience in real time via social media and plans to write a book about his journey. You can follow Phil Valentine and his adventures on the Appalachian Trail on his website AT4Recovery.org, as well as follow him on Instagram (@PValentine59) and Twitter (@PValentine59).