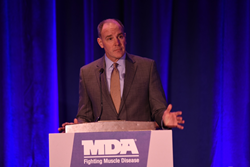 "We want more answers (for families) faster, pretty simple," Derks said. "It's why we wake up in the morning and it's why we're all here today."
WASHINGTON, DC (PRWEB) March 12, 2015
The Muscular Dystrophy Association's chief executive today opened its 2015 Scientific Conference in Washington by declaring to the more than 400 physician-scientist attendees that MDA's number one mission priority is to accelerate discovery of treatments and cures for the families it serves.
"This conference underscores two foundational commitments our Board recently affirmed in our new Mission 2020 plan," said MDA President and CEO Steven M. Derks. "First, MDA wants to continue to be the research leader in the neuromuscular and motor neuron space and second, MDA believes it needs to be an even more impactful and effective convener, collaborator and knowledge broker than in the past."
MDA's next generation of clinical and research changes are part of a bold plan to support families "solutions for them can't come quickly enough," Derks said.
His remarks come as MDA takes steps to refocus its basic and translational research program and capitalize on its position to advance frontline discoveries. The CEO disclosed a five-year plan that includes:

An increase in spending within MDA's own research program and a refocus of its research grant program to yield even better outcomes;
A more proactive approach in the marketplace with RFPs for specific funding opportunities and potential collaborations, while continuing its investigator-initiated, peer-reviewed process;
Co-funding more grants with other interested organizations, including other voluntary health groups, government agencies and drug developers;
Revolutionizing family care and support through its clinics, clinical trial infrastructure and support programs;
Finding new, relevant ways to connect with supporters, with plans to retool its fundraising programs.
"We want more answers (for families) faster, pretty simple," Derks said. "It's why we wake up in the morning and it's why we're all here today."
MDA is leading the way the world understands, treats and fights muscular dystrophy and related diseases. The organization is anchored by a passion to create a world free of the harmful effects of neuromuscular disease.
In recent months, MDA has added three new research leaders to its scientific team: MDA grant recipient and a professor in Emory's Department of Pharmacology Grace Pavlath joined MDA as Senior Vice President and Scientific Program Director; and both Amanda Haidet-Phillips of Johns Hopkins University whose focus was on ALS research and Laura Hagerty from GlaxoSmithKline, where she was as an investigator in its Skeletal Muscle Metabolism Discovery Unit, were named Scientific Program Officers.
"Bold new strategies need bold leadership," Derks told the group. "We need great researchers with great ideas – that is where you come in. We need great sponsors and donors, which we have and we're working to bring more together with us. We need great scientific and clinical advisors…and we need a talented, externally facing and networked staff team."
In the past year, MDA has funded 250 different muscle disease research projects worldwide. It also has a national structure of 150 clinics linked to major medical institutions where last year it provided health care services and support to more than 40,000 families.
About 2015 MDA Scientific Conference
MDA's 2015 Scientific Conference at the Washington Marriott Wardman Park in Washington, D.C. is March 11-14. The meeting is the preeminent gathering of the nation's leading scientists, researchers and professionals specializing in neuromuscular disease research and care, designed to accelerate discoveries and drug development for families fighting neuromuscular diseases, for which there are currently no cures. The conference is part of MDA's annual conference series, which hosts clinical gatherings and scientific research gatherings in alternate years.
For more information, read: MDA 2015 Scientific Conference to Emphasize Urgent Need for Discovery and Treatment.
About MDA
The Muscular Dystrophy Association is the world's leading nonprofit health agency dedicated to saving and improving the lives of people with muscle disease, including muscular dystrophy, amyotrophic lateral sclerosis (ALS) and other neuromuscular diseases. It does so by funding worldwide research to find treatments and cures; by providing comprehensive health care services and support to MDA families nationwide; and by rallying communities to fight back through advocacy, fundraising and local engagement.
Visit mda.org and follow us at facebook.com/MDAnational and @MDAnews. Learn more about MDA's mission by watching this video.
-MDA-