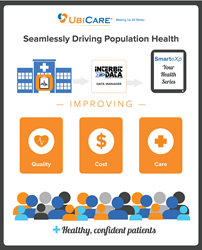 "It's all about proving the benefit of engaging patients before, during and after their hospital stay."
Boston (PRWEB) March 13, 2015
UbiCare, a digital patient engagement solutions company, and Interbit Data, a healthcare IT software solutions company, have formed a critical partnership, enabling the expectant and new parent population at Beth Israel Deaconess Hospital–Plymouth (BID-Plymouth) to automatically receive digital education targeted to their specific weeks of pregnancy. The result? Hundreds of patients were engaged instantly—with more being connected each week—to confidently manage their care, form strong connections with BID-Plymouth, and recommend the hospital to friends and family.
Here's how it works: Select patient data that exists within the hospital's electronic health record (EHR) is sent through Interbit Data's NetDelivery data distribution solution into UbiCare's SmarteXpTM patient engagement solution. From there, SmarteXp (for "Smart Experience") automatically creates unique subscriptions based on each patient's due date and starts delivering a targeted messaging series to each patient.
"The success of this seamless digital connection at BID-Plymouth opens great doors for UbiCare and all of our hospital clients," says CEO Betsy Weaver. "In proving we can automatically create digital connections to provide patients the right information at the right time, we truly allow our hospital clients to put patients at the center of their care, improve outcomes and increase satisfaction and referrals."
Enabling this digital connection is critical in 2015, as hospitals begin to be held accountable for meaningfully using their EHRs. Meaningful Use Stage 2 (MU2) requires that hospitals deliver Patient-Specific Educational Resources to more than 10% of inpatients using logic identified from their EHRs.
Designed to help hospitals improve the quality, access to and cost of care across many service lines, UbiCare SmarteXp 3.0.1 is certified to assist hospitals working to achieve MU2 for Patient-Specific Education Resources. Beyond that requirement, SmarteXp also allows hospitals to connect with their patients electronically to seamlessly deliver information, meet required portal use and prove Meaningful Use.
"An informed patient is a successful and loyal patient," says Weaver. "It's all about proving the benefit of engaging patients before, during and after their hospital stay."
About UbiCare
UbiCare, an award-winning digital healthcare company, creates connections that make us all better. By creating and sustaining effective patient/provider relationships throughout the care continuum, UbiCare reduces unnecessary care costs by up to 30%.
With a Dun & Bradstreet customer-service rating of 93%, UbiCare engages private practices and hospitals—including Texas Health Resources, Boston Children's Hospital and the Department of Defense—to be patient-centered innovators enhancing their patients' experience. For more information, visit http://www.ubicare.com.
About Interbit Data
Founded in 1997 and named three years to the Inc. 5000 list of America's fastest-growing companies, Interbit Data helps healthcare organizations deliver better, more consistent patient care with secure, reliable and cost-effective software solutions that improve operational efficiency. The company's information distribution products deliver information securely over the Internet in multiple formats, such as fax, print, email, encrypted file or HL7 message format, and integrate it easily into physicians' practice EMRs. Interbit Data's business continuance products give healthcare providers continuous access to patient data in the event of a network or system outage.
Interbit Data products are used by more than 750 customers worldwide. For more information about Interbit Data and its products, visit the company website at http://www.interbitdata.com.
Disclaimer: This EHR Module is 2014 Edition compliant and has been certified by an ONC-ACB in accordance with the applicable certification criteria adopted by the Secretary of Health and Human Services. This certification does not represent an endorsement by the U.S. Department of Health and Human Services.
UbiCare was certified under the vendor name TPR Media LLC (d.b.a. UbiCare) on December 23, 2014, for ambulatory and inpatient practice settings by InfoGard. Certification #s: IG-3230-14-0081 and IG-3230-14-0107.
Certification Criteria: 170.314(a)(15), (g)(1), (g)(4). View the EHR test report.