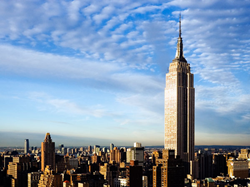 ... as a result of the relocation into the Empire State Building we will add as many as 120 additional professional positions in New York City over the next few years
NEW YORK CITY (PRWEB) March 12, 2015
HNTB Corporation, a leading infrastructure solutions firm, is moving its New York City operation into the landmark Empire State Building, where the firm will occupy three contiguous floors of the structure. The move will take place in September 2015.
"We selected the Empire State Building as our new home for a number of reasons, including that its enduring and powerful presence reflects the nature of HNTB's commitment to New York City," said Mike Sweeney, PE, HNTB's New York City metro district leader and senior vice president. "HNTB has had a continuous presence in Manhattan since 1922, when it opened an office on Liberty Street in the heart of the financial district. In 2022, we'll have the opportunity to celebrate a century of service of shaping transportation infrastructure in the region from this very special location." The firm also cited the Empire State Building's leadership in energy-saving sustainability initiatives.
According to Sweeney, among the other reasons behind this move are HNTB's ongoing commitment to the New York community, plans to add new employees in the firm's New York City office location, which will now be possible with the expanded space, and support from New York state.
"We have substantially grown the team based at our current location to approximately 200 people as of today, and as a result of the relocation into the Empire State Building we will add as many as 120 additional professional positions in New York City over the next few years," Sweeney said. "HNTB's team of multidisciplinary infrastructure experts is committed to meeting the needs of our transportation network today, and into the future."
HNTB's new office space will encompass more than 78,000 square feet on the 56th, 57th and 58th floors of the Empire State Building, an increase of 67 percent from the 47,000 square feet occupied at the firm's current 5 Penn Plaza location. "Once we move in, we'll look out our windows with pride as we survey the cityscape of bridges, roads, tunnels, airports and rails that our firm has touched in ways large and small," he said.
"The New York City office is the largest among the more than 60 HNTB offices throughout the country, and continues to experience tremendous success and growth," said Steve McElligott, PE, HNTB's Northeast Division president. "The New York City area and the entire northeastern United States are home to some of the most innovative and exciting transportation infrastructure programs in the nation. HNTB is proud of its relationships with many of the region's transportation agencies and the significant role we are playing together enhancing mobility in this region."
Of the many reasons for HNTB's growth, Sweeney cited the increasing importance of rail transit to the region's economic well-being. More than 100 professionals in the transit area alone have joined the firm in the past 24 months. HNTB's transit clients locally include the New York City Transit Authority, the Metropolitan Transit Authority's Metro-North Railroad and Long Island Rail Road, New Jersey Transit, as well as Amtrak and its Northeast Corridor passenger rail service.
Additionally, HNTB's globally recognized complex bridge practice is contributing significantly to some of the region's newest bridges, serving as lead designer of the Kosciuszko Bridge and owner's engineer for the $3.9 billion New NY Bridge (aka the Tappan Zee Bridge). The firm also serves as the New Jersey Turnpike Authority's general engineering consultant and played a significant role in its newly inaugurated $2.3 billion Interchange 6 to 9 Widening Program. HNTB's expertise extends into successfully delivering this region's other major transportation infrastructure projects, including program management for the extension of PATH rail transit service to Newark Liberty International Airport; implementation of a state-of-the-art electronic customer information system for Metro-North Railroad; Hurricane Sandy disaster recovery programs for New York City Transit, New Jersey Transit and the Port Authority of New York & New Jersey; implementation of all-electronic tolling on the New York State Thruway; and Jamaica Station capacity improvements for the Long Island Rail Road.
"It's also important to recognize that a move into a location with the stature of the Empire State Building requires a great deal of coordination with a number of different organizations," said McElligott. "I want to recognize and thank CBIZ MHM, New York Empire State Development, Empire State Realty Trust, Newmark Grubb Knight Frank and Colliers International for their great teamwork and diligence to make this move a reality for HNTB."
About HNTB
HNTB Corporation is an employee-owned infrastructure solutions firm serving public and private owners and contractors. With more than a century of service, including more than 90 years in New York, HNTB understands the life cycle of infrastructure and addresses clients' most complex technical, financial and operational challenges. HNTB currently employs approximately 200 people in New York City, almost 230 people in offices across New York State, and more than 400 full-time professionals in all of the firm's regional offices. Professionals nationwide deliver a full range of infrastructure-related services, including award-winning planning, design, program management and construction management. For more information, visit http://www.hntb.com.
About the Empire State Building
Soaring 1,454 feet above Midtown Manhattan (from base to antenna), the Empire State Building, owned by Empire State Realty Trust, Inc., is the "World's Most Famous Office Building." With new investments in energy efficiency, infrastructure, public areas and amenities, the Empire State Building has attracted first-rate tenants in a diverse array of industries from around the world. The skyscraper's robust broadcasting technology supports all major television and FM radio stations in the New York metropolitan market. The Empire State Building was named America's favorite building in a poll conducted by the American Institute of Architects, and the Empire State Building Observatory is one of the world's most beloved attractions as the region's #1 tourist destination. For more information on the Empire State Building, please visit http://www.empirestatebuilding.com, http://www.facebook.com/empirestatebuilding, @EmpireStateBldg, http://www.instagram.com/empirestatebldg, http://www.youtube.com/esbnyc or http://www.pinterest.com/empirestatebldg.
Photo: http://commons.wikimedia.org/wiki/File:Empire_State_Building_panoramic_Jun_2013.jpg