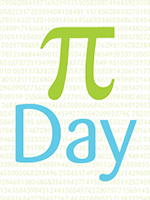 Richmond, VA (PRWEB) March 12, 2015
Celebrate Super Pi Day – the only day in this century that aligns with the infinite number's sequence – on Saturday, March 14 at the Science Museum of Virginia.
What is Pi? It's an irrational number, 3.1415926…, that is exponentially important to science, technology, engineering and math (STEM). Measuring up to the nature of this holiday, guests will enjoy early entrance to the Museum and activities that kick off at 9:26 am and just keep going and going and going…
Check out the big pie in the sky during a free Cosmic Expedition led by resident astronomer, Justin Bartel, in The Dome at 3 pm. Sample circular foods inside of the Boost! kitchen provided by Relay Foods – from frittatas to pizzas prepared by Pizza Tonight to pies, of course!
Come full circle to uncover innovative creations by middle and high school students during Engineering Ingenuity challenges. Students face the epic egg drop challenge, attempt to construct durable Popsicle bridges and compete in a CO2 drag race competition. School representatives and professionals will be available to explore careers in STEM with guests – inspiring the next generation of great thinkers!
Pi Day and Celebrating Engineering Ingenuity activities are included with exhibit admission. Tickets are $11 with $1 discounts for ages 4-12 and 60+. Celebrating Engineering Ingenuity is sponsored by the Richmond Joint Engineers Council.