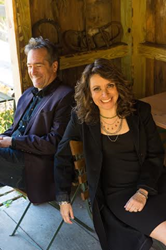 Fairfield, CT (PRWEB) March 13, 2015
On Sunday, March 29 the Fairfield Theatre Company will welcome the new project from songwriters Lucy Kaplansky and Richard Shindell to StageOne at 7:30 p.m. with very special guests, Larry Campbell and Teresa Williams.
As solo artists, Lucy Kaplansky and Richard Shindell have been making critically acclaimed albums for over two decades and have contributed harmonies to one another's works for years. However, with the exception of their collaboration with Dar Williams on "Cry Cry Cry," the two songwriters have never made an album together until now.
In the summer of 2014, the idea to finally join forces finally came to fruition after over two decades of talks thanks to an extraordinarily successful Kickstarter campaign, which happened to raise over $85,000 of its initial goal of $40,000. Because of this successful campaign, "The Pine Hill Project" was born.
The new project from this powerhouse duo was produced by the two-time Grammy award-winning producer Larry Campbell, whose list of credits as a musician and producer reads like a potential Hall of Fame ballot (Bob Dylan, Levon Helm, B.B. King, K.D. Lang, Sheryl Crow, Buddy and Julie Miller, Willie Nelson, The Black Crowes, Elvis Costello, Emmylou Harris, Paul Simon, Cyndi Lauper, David Bromberg, Hot Tuna).
Covering some of the greatest songwriters in history, Kaplansky and Shindell have created an Americana masterpiece called "Tomorrow You're Going," which focuses on this unique duo's gorgeous harmonies and pays tribute to some of the greatest songwriters over the past four decades, including Nick Lowe, Gillian Welch, Dave Carter, Bono and Elizabeth Ziman.
Join the Fairfield Theatre Company in welcoming these two vivacious performers, joined by two of music's biggest names, Williams and Campbell, as they present a night of powerful rollicking and deeply moving music that will rejuvenate any music lover. You don't always get to see talent this great in such an intimate space, let alone all on the same stage at once. FTC strongly encourages buying tickets early, because this is a show you don't want to miss.
The Pine Hill Project
Date: Sunday, March 29
Doors: 7 p.m.
Show: 7:30 p.m.
Venue: StageOne
70 Sanford St., Fairfield, CT 06824
Tickets: $42 Advance Ticket Member Discount: $5
Buy online: http://www.fairfieldtheatre.org
About the company:
Fairfield Theatre Company is a highly-acclaimed non-profit performing arts organization located in the heart of downtown Fairfield, Connecticut. FTC presents nearly 250 performances and concerts each year featuring outstanding national talent on FTC's StageOne in Fairfield, The Klein Auditorium in Bridgeport, and the Norwalk Concert Hall in Norwalk. FTC's intimate 200-seat StageOne concert venue is widely recognized as being one of the best places to see a live performance in the region. FTC is dedicated to providing the highest-quality arts, live entertainment and educational experiences to the communities it serves.