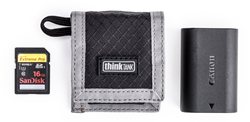 Santa Rosa, Calif (PRWEB) March 16, 2015
Sometimes all a photographer needs is just enough storage to hold one back-up battery and a CF or SD card. In April, Think Tank Photo will release the CF/SD + Battery Wallet, a lightweight, secure, and convenient wallet for carrying a spare memory card and battery. No more fumbling for essentials, it's all here in this compact package. Its organization makes this a must-have for anyone seeking small accessory management.
Key Storage

The same place for 1 back–up battery and 1 CF or SD card
Clear window helps to identify empty vs. full cards
Hook/loop closures keep your valuables secure
Attachment loop
Premium, long lasting materials
Durable, water-repellant coating
Gear Profile
CF/SD and Battery Wallet: 1 CF or 1 SD and 1 camera battery (for Mirrorless, compact or standard size DSLRs)
Materials
Exterior: For superior water resistance, all exterior fabric has a durable water-repellant coating,
plus the underside of the fabric has a polyurethane coating. It also has 420D diamond rip–stop
nylon, 420D high–density nylon, nylon binding, and 3–ply bonded nylon thread.
Product Specifications
Exterior Dimensions: 2.4" W x 2.8" H x 1.6" D (6 x 7 x 4 cm)
Dimensions taken when fully loaded
Weight: 0.5 oz (13 g)
# # #
About Think Tank
Headquartered in Santa Rosa, California, Think Tank (http://www.thinktankphoto.com) is a group of designers focused on studying how people work and developing inventive new carrying solutions that meet their needs. They are dedicated to using only the highest quality materials and design principles, and employing materials that are environmentally benign.