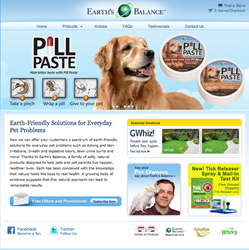 Wolcott, NY (PRWEB) March 13, 2015
"Our goal is not to compete with our current distributors and dealers, but to serve customers who might otherwise be unable to purchase the products," said Linda Cope, Global Marketing Manager. "Specifically, customers who live in areas where the products are not available." The new ecommerce site will also enable the company to bring new products to market faster.
The Earth's Balance product line is known for its planet-friendly solutions for everyday pet problems, such as itching and skin irritations, odor control, tick removal, lawn burns and more. It's a family of natural products designed to help pets and pet parents live happier, happier lives.
For more information about Earth's Balance or any of the company's innovative pet products, email info(at)marshallpet(dot)com or visit http://www.marshallpet.com.
About Marshall Pet Products
Since 1993, Marshall Pet Products has provided innovative pet solutions for cats, dogs, birds, horses, rabbits, hamsters, ferrets, gerbils, and guinea pigs. Top brands include Earth's Balance, GoodBye Odor, 180XT, Pet Solutions and Good Mews. Marshall is committed to continually developing new products to enhance the special bond that pet owners have with their pets. The company was recognized with two Pet Business Industry Recognition Awards and one BlogPaws Award in 2012 and one Pet Business Industry Recognition Award in 2013.