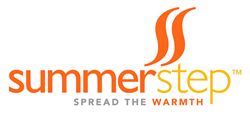 Salt Lake City, UT (PRWEB) March 14, 2015
Summerstep™ recently announced their participation in the World of Modular convention and trade show this weekend in Las Vegas, the year's biggest event for prefab modular homes. This year marks the 32nd edition of the Modular Building Institute's annual event, and the Summerstep team is anticipating the largest show in the modular industry with considerable excitement.
"This year's event is a great opportunity for us," said Nate Evans, Summerstep's Business Development Director. "Home buyer's interests in prefabricated and modular homes is at a high it's never been at before, and this tradeshow allows us a great opportunity to network with professionals and buyers alike to show what our custom floor heating is all about. After all, this is the industry's biggest event by far."
The World of Modular tradeshow operates as an open forum for anyone interested in the modular construction industry. The show offers manufacturers and dealers of modular buildings a place to meet potential clientele. In addition to this, the show also offers suppliers of modular products, such as Summerstep and their custom designed floor heating system, a place to display and showcase their value to the industry.
The Summerstep team will be present for the duration of the show, running from the 13th through the 16th of March. Their custom heated floor will be at booth #802 for the 14th and 15th, where Summerstep will be discussing the quality of their floor heating technology and how easy their systems are for manufacturers to incorporate in their modular buildings.
More About Summerstep™
Summerstep™ is the premier manufacturer of the most efficient and easy‐to‐install electric radiant floor heating systems and snow-melting systems. The company's patented, heat‐spreading technology enables even heat distribution and control that is unparalleled by any other brand. Whether building or remodeling, Summerstep can provide spa‐like comfort and make any radiant floor heating project a complete success. Summerstep is headquartered in Salt Lake City, Utah, and ships its products throughout North America. Summerstep likewise offers its contractors the training, advice, and support necessary to make the inclusion of their product a great success to their flooring business.