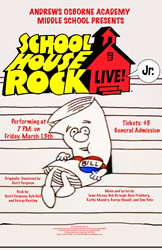 Willoughby, OH (PRWEB) March 12, 2015
The 1980s Saturday morning cartoons come to life on stage at AOA this spring. The Andrews Osborne Academy Middle School presents Schoolhouse Rock Live! Jr. on Friday, March 13, at 7:00 p.m. in the Osborne Building Auditorium. Tickets are $5 general admission and may be purchased at the door.
Favorites like Conjunction Junction, Interplanet Janet, Interjections! and more are brought together in one show to create a nostalgic, entertaining, and educational experience.
"I tried to treat this show much like the fun memories that the cartoon itself held for those of us that grew up watching it," says Choral and Theater Program Director, Joel McDaniel. "Hopefully, it brings back some fond memories of years past and passes on this cult classic to a whole new generation!"
Andrews Osborne Academy (AOA) is an private, coeducational, college preparatory day (grades Pre-Kindergarten through 12th) and boarding (grades 7-12) school near Cleveland, on a 300 acre campus located in Willoughby, Ohio. Our Academy offers elementary, middle and secondary education to committed students in a multicultural setting. Contact the Office of Admission to arrange a tour at 440-942-3600.