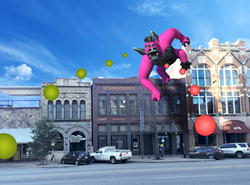 Everyone needs a little bit of magic in their lives everyday, so we're bringing it to them on their existing smartphones.
Austin, TX (PRWEB) March 14, 2015
Fantasmo Studios demonstrates an innovative gaming platform with Project BLAM. Through Project BLAM, players experience the physical and game worlds simultaneously. Without the need for Virtual Reality headsets like Oculus Rift or the HTC Vive, Project BLAM creates a shared, immersive reality, accessible by anyone with an iPhone. The game operates as a digital layer on top of the real world that allows the characters to interact with the space as if they were physically present. SXSW attendees will be the first to play the game and experience this invisible world magically emerge on their screens.
During SXSW Interactive March 14 – 17, daily from 10am – 10pm attendees will have the opportunity to play Project BLAM in downtown Austin at N Congress between 4th and 5th with the help of the Fantasmo Street Team. Reminiscent of the old-school arcade game Rampage, players use their iPhone to blast an angry gorilla off the buildings around them to save the city and earn points. The free app will be available to download and top scoring players will win an iPad Mini.
The minigame at SXSW demonstrates the basic capabilities of Fantasmo Studio's S.H.i.F.T. (Super Happy integrated Fun Time) Platform and gives a glimpse into the applications of the completed platform. Fantasmo plans to release its first full game in Q4 2015.
ABOUT FANTASMO
Fantasmo Studios is creating a first of it's kind "Integrated Reality" platform. This real-time multiplayer immersive gaming experience integrates the physical and digital worlds through players' smartphone screens. Fantasmo's founders originate from New York and San Francisco and are currently in the Techstars Cloud 2015 accelerator program in San Antonio, TX. To learn more visit http://www.fantasmostudios.com or call 717.808.4908.