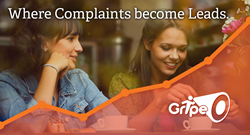 GripeO is well positioned to be the first and only business marketplace for frustrated consumer feedback.
Buffalo, NY (PRWEB) March 17, 2015
Today, GripeO, a website and mobile application customer service platform, has announced that it has surpassed its user and business adoption goals for Q1 by over 50%, and is releasing version 2.0 of its tool set just months after closing a seed round of financing.
The updated product is a SaaS based offering, which allows businesses of all sizes the ability to convert competitor complaints on Twitter and GripeO into new sales leads. The company has selected an introductory price point of $29/month, which they believe will position the offering to easily demonstrate speedy and consistent return on investment. By leveraging mobile, social media, and current web technologies, the company is seeking to position itself as a modern twist on the Better Business Bureau, and an evolution of the existing Yelp model.
On the company's impending release, GripeO CEO Mike Klanac said, "The passion and interest in the GripeO customer service platform demonstrates that there is an extremely strong market need to modernize and improve the social feedback process as a whole. GripeO will continue to refine product/market fit through 2015, and aggressively scale the platform worldwide. GripeO is well positioned to be the first and only business marketplace for frustrated consumer feedback. In Q2 of 2015, based on existing market interest, GripeO will add to its SaaS offering and offer a new enterprise-level listening platform, aimed at ensuring world class fan experiences at major sports and entertainment venues."
Consumer users are the engine that drive GripeO forward. To get the most out of GripeO as a web or app user, Klanac said the following:

Pictures matter - Tweets with image links get 2x the engagement rate of those without.
Share it - GripeO will notify a business for users, but it's key that gripes are shared on social media. When connections favorite, retweet, or like posts, businesses start to perk up. GripeO has even catalogued the correct social care handle for Twitter users.
Be respectful - State issues calmly, remain polite, and be clear about expectations. GripeO is not a platform to simply vent. The goal is to effectively and efficiently connect users with businesses, and vice versa.
Use the GripeO Customer Service Directory - This isn't the average business directory. The GripeO team has meticulously documented the Social Customer Care handles that listen and respond for major companies.
About GripeO LLC: GripeO is a modern customer service platform for consumers and businesses, which uses mobile and social technologies to address growing frustration in how we provide companies feedback. Users submit feedback for any business from one consolidated mobile app, or website, typically in under a minute. Verified businesses can respond to and analyze feedback. Unverified businesses are encouraged to verify and address the issue through social media encouragement, using GripeO. If feedback is completely ignored, it is offered as a highly qualified lead to competitors, in the Complaint Marketplace. Additionally, verified businesses are offered tools to improve their help desk experience. Playing on the concept of complaint feedback actually being an incredible opportunity, the GripeO Social Lead generation toolkit cross references competitive keywords with hashtags like #badcustomerservice, follows them, and reports if the user follows back. This allows businesses to then reach highly qualified leads, at just the right time. GripeO's vision is to grow as a feedback aggregator by making it easier and more convenient to submit on one's own terms, while still guiding and shaping that feedback in a way that provides value to businesses. GripeO will continue to assess new ways to bring data into the platform, be it through new inputs like website widgets and text messaging, or data collection methods, like scraping.