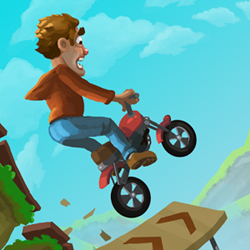 (PRWEB) March 14, 2015
The developers at Fingersoft have recently enabled the Fail Hard game for Android* tablets powered by Intel® Atom™ Processors. The life-like action gives gamers a new set of challenges and skills to explore on their mobile devices.
Tablet users should buckle their seat belts and strap on their helmets: Fail Hard is an outrageous, high-octane stunt course built for motor cross bikes, trucks, and some vehicles that don't exist in reality. Testing stuntman acumen was never so comic and confounding. Players jump, swing, loop, even fly to get through some of the most incredible obstacle courses yet. Gamers collect coins for equipment upgrades and earn bragging rights by accruing stars. Stunning, crisp graphics and catchy sound effects round out the gameplay experience.
Stuntman fans get a whole new view of Fail Hard on next-generation mobile devices. Smooth tap-and-swipe mechanics mix fluidly with the game's responsive animation. Fingersoft had access to a range of business and technical tools through the Intel® Developer Zone.
"We wanted to create a humorous, bigger-than-life stunt action game with Fail Hard," says Teemu Närhi, CEO of Fingersoft. "Android* tablets powered by Intel Atom processors are a powerful platform for this app, really electrifying the realistic physics. It is unbelievably addicting."
Fail Hard is available for immediate download at Google Play: https://play.google.com/store/apps/details?id=com.fingersoft.failhard
About Fingersoft:
Fingersoft is a Finnish developer and publisher focusing on fun-filled content for mobile devices. The company, famous for its worldwide hit mobile game Hill Climb Racing, started its mobile app business in 2011. Together with Hill Climb Racing and other popular apps and games such as Benji Bananas, Fingersofts products are currently installed close to 700,000 times a day. Hill Climb Racing alone is totaling in over 260 million downloads globally. Fingersoft's products are available for iOS, Android, Windows Phone and Amazon Kindle.
About the Intel Developer Zone
The Intel Developer Zone supports independent developers and software companies of all sizes and skill levels with technical communities, go-to-market resources and business opportunities.
To learn more about becoming an Intel® Software Partner, join the Intel Developer Zone.
Intel, the Intel logo and Intel Inside are trademarks of Intel Corporation in the U.S. and/or other countries.
*Other names and brands may be claimed as the property of others.
Copyright © 2015 Intel Corporation. All rights reserved.