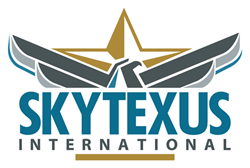 we will increase your government business
Dallas, TX (PRWEB) March 17, 2015
In fiscal year 2015, the federal government is projected to spend around $3.9 trillion. How many companies actually have experts guiding them through the U.S. Government Business Development lifecycle?
Trusted for over 14 years. Since pioneering the industry, SKYTEXUS International has supported hundreds of companies with Government Business Development services. SKYTEXUS' professionals are located throughout the United States and are all former government top level executives and deck-plate level operators with the knowledge and networks that your company needs.
In addition to the Department of Defense (DoD) F-35 Joint Strike Fighter (JSF) program, SKYTEXUS International is now involved in:

the 'global effort' to combat Ebola through Electrostatic Technology
International Fugitive Tracking Operations
the Comprehensive National Cybersecurity Initiative (CNCI)
the Ultra Low Visibility Concealable Body Armor (ULV CBA) requirement
the M320/M320A1 40mm Grenade Launcher requirement
Expeditionary Oxygen systems for Mass Casualty Events (MCEs)
SKYTEXUS International facilitates the affairs between the client and the Government by putting their unique combination of business development strategies, market intelligence, capture management, proposal development, "red team" reviews and program execution expertise to work for its clients.
SKYTEXUS International assists their clients through a successful coalition of people, procedures and technology; they help their clients attain success by implementing their most intricate programs with customized solutions positioned to the organization's purpose and strategies. SKYTEXUS provides a personalized approach to tackle emerging trends and modifications through a variety of business sectors such as: Defense, Homeland Security, Federal/State/Local level, Transportation & Logistics, Intelligence, Healthcare, Technology, Education, etc.
By understanding these methods, strengths and weaknesses, and having the power to foresee how changes in the legislative branch could impact funding, SKYTEXUS International helps its clients make accurate decisions by emphasizing its value and alleviating uncertainty. These services are a game changer for your company and evidence of SKYTEXUS' capacity and fortitude.