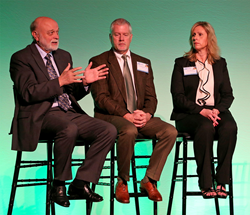 Loma Linda, Calif. (PRWEB) March 12, 2015
Loma Linda University Health hosted its 42nd annual "Healthy People in Healthy Communities" conference on March 9-11 that excited participants to "actively live your best life" -- the event's theme -- and featured experts who revealed the latest findings on whole health, the paths to and benefits of greater happiness, the role of the physical environment on health, and healthy aging. Nearly 400 people attended the three-day conference, which devoted a day each to the role of technology, exercise as medicine, and happiness.
There were morning group exercise classes prior to the sessions, a health expo mid-day featuring over 30 exhibitors and healthy cooking demos, free health screenings, book author signings, a speakers mix-and-mingle reception, and an evening symposium on the connection between faith and health. The conference was open to the public, and attendees were allowed to earn continuing education credits.
Present at the event were inspiring individuals who have overcome major health issues and taken action to transform their lives. Short videos on four individuals were shown at the conference, including one on Tom Zapara, a 91-year-old philanthropist and retired businessman with diabetes who is now in control of his condition.
Speakers included Richard H. Hart, MD, DrPH, president, Loma Linda University Health; Robert Sallis, MD, Exercise is Medicine Advisory Board chair; Nick Buettner, community and corporate program director, Blue Zones, LLC; Lee S. Berk, DrPH, MPH, associate professor, School of Allied Health Professions, Loma Linda University Health; Karyn Buxman, RN, MS, neuro-humorist; Sam Soret, PhD, associate dean for research and executive director, Center for Community Resilience, School of Public Health, Loma Linda University Health; plus many other distinguished experts.
A panel "State of the Inland Empire: Healthcare & Prevention" gave the public health picture of the region, in which roughly one in four residents receive care through Medi-Cal, the state's insurance program for lower income individuals. Dr. Hart spoke passionately about Loma Linda University Health's commitment to whole health and to serving all people in the region regardless of their income level. He talked about his institution's $68 million San Bernardino campus project, which will provide clinical services and healthcare classes. Dr. Hart's comments about how the project, currently under construction, will provide "more education, jobs, and healthcare services" to an area in dire need brought strong applause from conference attendees.
Loma Linda University Health is a leader on whole health issues and was featured in February on CNN International's "Vital Signs with Dr. Sanjay Gupta" show that focused on healthy aging and greater longevity. In the show, Dr. Gupta, CNN's chief medical correspondent, focused on the commonalities within the world's five "Blue Zones," which author and explorer Dan Buettner has identified as areas where residents live the longest. Loma Linda is the only Blue Zone in the United States. (The show is posted on CNN's website.)
Loma Linda University Health also has the distinction of engaging in one of the world's longest running research studies on aging and longevity. The studies are collectively called the Adventist Health Studies, which were cited in the CNN show, and some of its powerful findings were discussed at the conference. Nick Buettner, a brother of Dan Buettner, gave two presentations on what lessons from the Blue Zones can be applied to people's lives so they can live longer. His presentations touched on material that will be in Dan Buettner's new Blue Zone book, which is set to be released on April 7.
One enthusiastic attendee was Bonnie Johnson, a retired publications editor, who has regularly come to the annual conference for decades. Johnson, who is in her 70s, agreed that some of the main keys to longevity are good nutrition and physical activity, repeating the line that "being sedentary is the new smoking." She said the annual event is always informative and inspiring to individuals and healthcare professionals, who can, in turn, "spread the health message to others."
More event information can be found on the conference's website: http://www.HealthyPeopleConference.org