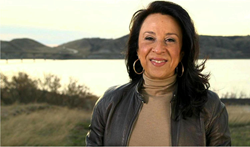 New York, NY (PRWEB) March 13, 2015
The groundbreaking PBS documentary series AMERICA BY THE NUMBERS WITH MARIA HINOJOSA (ABTN), which examined the changing demographics of the U.S., was a huge success in its first season broadcast on World Channel and public TV stations across the nation. Premiered in fall 2014 as the first national program dedicated to examining how quickly the nation is becoming more diverse and how those changes are playing out in local communities across the U.S., the series attracted a younger and more diverse audience to public television, while maintaining the established audience for PBS news and public affairs. Award-winning reporter, author and documentary producer Maria Hinojosa (NPR's Latino USA) is the anchor and executive producer of this compelling eight-part documentary series. ABTN analyzed the "new American mainstream"—which demographers say includes Asians, Latinos, African Americans, mixed race individuals, immigrants, women, millennials, and the LGBTQ community—who are increasingly determining the outcomes of elections, while driving consumer trends and influencing arts, culture, and all aspects of contemporary life.
Audience and carriage data shows AMERICA BY THE NUMBERS WITH MARIA HINOJOSA:
•Broadcasted on 363 public channels; the programs were viewed in 43 states and seen in 86% of U.S. markets;
•Attracted twice the typical African-American and Latino audience to PBS over all episodes, with some episodes attracting three times the numbers of African-American and Latino households than average PBS viewers;
•Appealed to viewers nearly a decade younger than the average PBS primetime audience;

Reached 1,165,000 unique viewers across eight episodes, with the "Pass or Fail in Cambodia Town" episode reaching the most per-episode viewers, and earning a 0.2 national household rating;
•Performed on par with its lead-in; ABTN averaged a 0.1 rating, and the show before it averaged 0.1;
•Among primary station telecasts, America By The Numbers with Maria Hinojosa built on its lead-in, averaging 0.3, compared to 0.2 for its lead-in;
•Engaged with close to ten million people through digital and educational platforms and live events, including six million messages in Twitter town halls.
"The series exceeded our expectations attracting younger and more diverse viewers to public TV," said Hinojosa. "We succeeded in creating a show that looks to the future and speaks to the people we were reporting on and who are the changing face of our nation."
A full report on ABTN's performance, including data provided by PBS and compiled by Futuro Media Group, is available here: http://bit.ly/1EhITx2.
For more information on the series, visit the AMERICA BY THE NUMBERS WITH MARIA HINOJOSA website at: americabythenumbers.org
# # #
About the Futuro Media Group:
The Futuro Media Group is an independent nonprofit organization producing multimedia journalism that explores and gives a critical voice to the diversity of the American experience. Based in Harlem and founded in 2010 by award-winning journalist Maria Hinojosa, Futuro Media is committed to telling stories often overlooked by mainstream media.