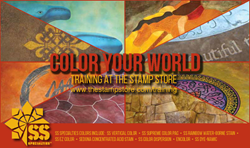 "We are sure you know that concrete does not have to be gray or dull. Let us show you how to bring a world of color to your jobs. Beautifully colored concrete can bring more green to your pocket." The Stamp Store
Oklahoma City, OK (PRWEB) March 13, 2015
Decorative concrete has become a popular option for finishing all types of floors, including residential and commercial spaces. The Stamp Store has recently announced that it will continue its tradition of providing professional decorative concrete training to those looking to expand their knowledge of the industry. Understanding that having the right product goes hand-in-hand with understanding the proper technique for using decorative concrete products, The Stamp Store will be providing a variety of hands-on classes for both DIY homeowners and contractors.
Among the decorative concrete training classes to be offered this year is From Chips to Solid Colors, Polyaspartic Coating Rules. The one-day class will take place on March 13, 2015, and will teach students how to successfully install a quality polyaspartic floor. During the class, students will learn floor forensics as well as the necessities for crack repair, correct floor preparation, and how to ensure a floor is successfully installed. As part of the floor forensics portion of the class, The Stamp Store will include information on testing for slab moisture and hydrostatic pressure, which can have a significant effect on the installation of a successful floor. During the class, students will have the opportunity to operate a Hawk BRUTE Floor machine for preparing the floor surface. This class is designed to help prepare students so they will feel more comfortable in installing decorative concrete flooring. Polyaspartic floors are appropriate for a variety of applications, including warehouse floors, garages, aircraft hangers, auto showrooms, and more. The class includes morning coffee and lunch.
As part of the decorative concrete training series, The Stamp Store will also be providing a class entitled Color Your World….Stain, Color & Dye Class on March 27, 2015. This one-day class will show students how they can introduce color to their decorative concrete flooring to create more visual interest. During the class, students will learn the same techniques and methods used by professionals to ensure a quality finish. Three primary methods will be covered in the class: Rainbow Water Base Color, Sedona Acid Stain, and SS DYE-namic. All preparation, coloring, and sealing techniques will be covered in this in-depth class. This hands-on decorative concrete training includes lunch.
To learn more about decorative concrete training provided by The Stamp Store, visit http://www.thestampstore.com.
About The Stamp Store: Established in 1990, The Stamp Store was the first operation in Oklahoma to specialize in decorative concrete. Today, The Stamp Store offers a variety of decorative concrete training and products including a vast online store for the convenience of shopping for decorative concrete products and supplies on the internet and having them direct shipped to your door.