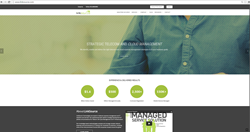 "We are in the business of recovering lost time and money… our new site communicates how we deliver."
Roseville, CA (PRWEB) March 20, 2015
LinkSource Technologies, specializing in strategic telecom management, today introduced its newly re-designed website. The new site provides new company messaging related to our core competency of strategic telecom expense management and lifecycle management. The site has a sleek new design, is responsive-friendly for all devices, intuitive to navigate and includes: a live chat feature, monthly blog and newsletter and ROI calculator for users to quickly identify an average savings that LinkSource could help them to identify and secure.
"Our new website, aside from being aesthetically pleasing, is more agile, interactive, and is easier to navigate on all types of devices, enabling clients to find what they need quickly, stated, LinkSource Technologies CEO, Curt Lewis. "Additionally, our key messages and value propositions about strategic telecom expense management, cloud based expense management and lifecycle management are evident and clear. Our main goal of the website was to inform potential and current clients of all the services that we provide and allow them to get to know us better."
The new site provides a fresh, bold new look into LinkSource with one-click access for users to learn about the many facets of expense management and the potential for savings. Users can browse the pages or use the live chat feature to ask a question or gain information about either fixed or wireless expense management. We hope you will visit the new website http://www.linksource.com and acquaint yourself with the new design. While you're there, let us know what you think by clicking here. In the coming months, we hope to continue improving the site so that it best serves how we communicate with you.