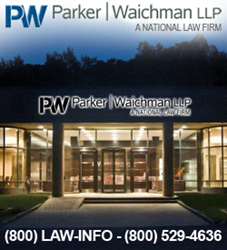 When a bellwether is settled, the firm takes that as a very positive move for, not just the individual plaintiff involved in the bellwether, but for all of the plaintiffs—and potential future plaintiffs—involved in the pending litigation
Port Washington, New York (PRWEB) March 13, 2015
Parker Waichman, a national law firm dedicated to protecting the rights of victims injured by defective drugs and medical devices, is commenting on a recent settlement involving Ethicon's pelvic mesh device. Court documents show that a bellwether transvaginal mesh case was settled on the fifth day of trial. The lawsuit was filed on behalf of a woman who alleged that the device caused inflammation, chronic pain, and other injuries. She alleges that she underwent four surgeries to remove and revise the mesh implant, court records indicate. The case is Dianne M. Bellew v. Ethicon Inc., case number 2:13-cv-22473, in the U.S. District Court for the Southern District of West Virginia at Charleston.
Parker Waichman LLP is involved in hundreds of cases and the larger multidistrict litigations (MDLs) that are pending across the United States over various pelvic mesh devices that are allegedly defective and caused injuries to women. Among these is the MDL involving the Ethicon pelvic mesh device in this case against Johnson & Johnson: In Re: Ethicon, Inc., Pelvic Repair Systems Products Liability Litigation, MDL No. 2327.
"Bellwethers are important to the overall litigation because these cases are seen as barometers into the larger litigation and provide a valuable view into how future cases may proceed," said Gary Falkowitz, Managing Attorney at Parker Waichman. "When a bellwether ends in favor of the plaintiff, as this one did, by either a settlement or a court win, an indication to all parties involved occurs that the litigation may be close to settlement and that the defendants may be more open to negotiating."
Mr. Falkowitz added that, "When a bellwether is settled, the firm takes that as a very positive move for, not just the individual plaintiff involved in the bellwether, but for all of the plaintiffs—and potential future plaintiffs—involved in the pending litigation." The firm continues to represent plaintiffs in this litigation and in other similar litigations involving pelvic mesh products and continues to offer free legal consultations to individuals with questions about their alleged pelvic mesh injuries and their legal rights, according to Parker Waichman.
Parker Waichman continues to be in contact with individuals who are concerned about the safety of pelvic mesh devices and notes that this settlement is an important step in the litigation involving transvaginal mesh and the various injuries allegedly associated with the medical device.
"We are pleased to see injured individuals get their day in court," said Gary Falkowitz, Managing Attorney at Parker Waichman LLP. "As a firm that represents numerous clients injured by defectively designed medical devices, we hope that the proceedings move swiftly and efficiently."
The settlement is particularly significant becomes it comes shortly after another jury awarded a $5.7 million verdict in favor of a plaintiff in a similar case that was brought over allegations that the Ethicon TVT-Abbrevo mesh device caused pain and urinary problems, Parker Waichman noted. This case is also significant because of the high award that was reached. The jury awarded $700,000 in compensatory damages and $5,000,000 in punitive damages. The case is in the Superior Court of the State of California for the County of Kern; Coleen M. Perry, Plaintiff, vs. Hung T. Luu, M.D.; Johnson & Johnson, A New Jersey Corporation; Ethicon, Inc., A New Jersey Corporation; and DOES 1-60, Defendants; Case No.: 1500-Cv-279123 LHB; Assigned to the Honorable Lorna H. Brumfield; Reservation No.: 4676.
Parker Waichman continues to evaluate pelvic mesh injury lawsuits brought on behalf of people who allege they developed significant, life-changing injuries following surgical implant with the devices. The firm also continues to actively monitor pelvic mesh litigation. If you or a loved one experienced complications following mesh-related surgery involving transvaginal mesh, pelvic mesh, and vaginal implants for pelvic organ prolapse (POP) or stress urinary incontinence (SUI), please visit the firm's Transvaginal Mesh Injury page at yourlawyer.com. Free case evaluations are also available by calling 1-800-LAW-INFO (1-800-529-4636).