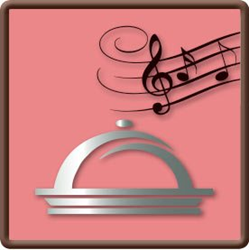 Musical Pairing allows you to elevate a good dish to greatness and a great dish to near perfection. This new App does the work for you.
New York, NY (PRWEB) March 16, 2015
The art of cooking and eating fine food has taken a step forward. Barbara Werner, a New York City-based author and professionally-trained chef has created a Musical Pairing App. The first app that allows the user to find both a beverage and musical accompaniment in 4 easy taps.
Every foodie is searching for the perfect bite, and Musical Pairing, the ultimate guide to pairing food and music, can help people make the connection between these two ancient arts. Foodies and music lovers, alike, can download the app for free. Available only for iphones and ipads.
Musical pairing is the art and science of selecting the right music to pair with the right meal. Just as a Sommelier would learn to pair the right wine or cocktail with the right dish, the musical pairing app has the ability to select the right beverage with the right music to elevate any meal.
It takes the art of music and combines it with the science of food and beverage pairing in a fun and easy way. With an open heart, an open mind, and a simple mathematical formula foodies can learn how to elevate a good dish to greatness and a great dish to near perfection. And you can do it all with simple swipes.
Barbara Werner is a professionally-trained chef, and coming from a long line of Italian cooks and butcher shop owners she considers herself the Trifecta of food. An avid audiophile she has always had an interest in food and food preparation, and received her culinary training at SUNY Cobleskill in upstate New York. She is the author of the children's book "The Magic Flower," Musical Pairing: The Art of Harmonizing Music to Your Meal and the Upcoming Musical Pairing: Bringing Beverages to the table. Ms. Werner is also licensed in manicuring and tattoo art, certified in reflexology, and the mother of a grown daughter.
About Musical Pairing Inc:
Musical Pairing videos and services highlight how to incorporate the proper music with your meal using playlists provided by yourself or our company. Our expertise extends to planning private parties and focusing on items such as the menu, catering accompaniment, and musical planning partners to assist in the event. The company also advises restaurants on music selection and assists with the planning of weddings and special occasions.
For more information on Barbara Werner or the art of musical pairing, contact Musical Pairing Inc. by phone (917-848-8460), fax (212-826-6200), or e-mail bwerner(at)musicalpairing(dot)com. Visit our website at Musical Pairing for more information.
For more information on our mobile app and Musical Pairing dinners, contact Victoria Macaluso, Marketing Director, at musicalpairing(at)gmail(dot)com Attn: Marketing.