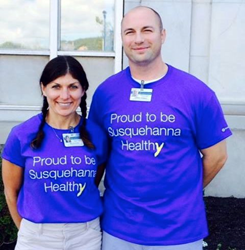 There is definitely camaraderie in the hallways and stairwells as our service partners share their excitement about improving their health. We expect to see that snowball effect in health and wellness year round.
Williamsport, PA (PRWEB) March 12, 2015
As a healthcare organization comprised of 4,000 employees serving in four hospitals in northcentral Pennsylvania, Susquehanna Health understands the importance of work/life balance to the extent of investing time and resources in promoting the health and wellness of its employees through such things as guided care, health coaching, health and wellness incentives and a new weight loss challenge program.
Health and Wellness Educators Jerrod Ferrence and Melissa Gundy were hired in June 2014 to oversee the organization's guided care programs for diabetes and hypertension. These programs are designed to assist employees in minimizing health impacts from chronic diseases by implementing best practice behaviors. In addition, the educators were charged with creating a wellness calendar of activities to address health and wellness issues and encourage healthy living across the organization.
"Currently, we are working on a four-campus-wide, 16-week weight loss competition," said Ferrence. "Thirty percent of our employees are participating on 108 teams composed of 9 to10 team members." At the onset of the competition, total participant weight was 204,275 pounds. Within the first month, the teams collectively lost 3,042 pounds.
Weight Loss Challenge team members compete by taking quizzes on health and wellness information and participating in at least two of five weigh-ins throughout the competition. Prize incentives including eight hours of paid time off will be awarded to members of the team with the highest number of pounds lost and the highest percent of body fat lost. Additional incentives include memberships to the local YMCA and free training sessions. "The fact that our human resources department is providing paid time off to the winning teams shows generous support for our service partners," said Gundy.
Although the competion ends in May, additional programs including indoor and outdoor activities will be unveiled to improve health and wellness throughout the year, according to Ferrence. "Once the competition is over, additional programs will be available to help our service partners support the weight loss attained throughout the competition," said Gundy.
"We have seen tremendous growth through this program," said Ferrence. "There is definitely camaraderie in the hallways and stairwells as our service partners share their excitement about improving their health. We expect to see that snowball effect in health and wellness year round."
In addition, Susquehanna Health's wellness program provides employees with incentives for completing several wellness activities that are paid through the health insurance program into a health savings account (HSA) that can be used toward medical expenses. Employee and spouse participation can earn up to $500 per year for completing the incentives. "The main goal is to assist our service partners with our wellness programs. We want to help them understand how important their health and wellness is and provide them with education so they know how to fit it into their busy lives," said Gundy.
In September 2014, the health system launched the "I'm Susquehanna Healthy" advertising campaign to encourage healthy living through the sharing of personal employee testimonies about the ways in which they live a healthy lifestyle. Since then, stories and photographs of employees engaging in healthy activities have been highlighted on social media platforms and in newsletters.
"As a healthcare organization, we have a firm belief in improving the health of people in our region, many of whom are our own employees," said Director of Marketing Teia Engel. "By sharing the ways in which we stay healthy, our hope is it will reinforce healthy behavior choices among other employees and the communities we serve."
About Susquehanna Health
Susquehanna Health is a four-hospital integrated health system including Divine Providence Hospital, Muncy Valley Hospital, Soldiers + Sailors Memorial Hospital and Williamsport Regional Medical Center located in northcentral Pennsylvania. Serving patients from an 11-county region, Susquehanna Health is a healthcare leader and has been recognized at the national and state levels for quality of care. Susquehanna Health offers a wide array of services that include cancer care, heart and vascular care/heart surgery, neurosciences including neurosurgery, orthopedics, urology, OB/GYN, gastrointestinal services, behavioral health, physical rehabilitation, home care, long term care, assisted living and paramedic/ambulance services.