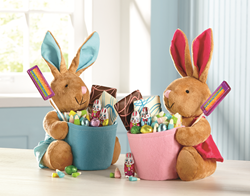 Joyous Easter baskets and flavorful desserts from The Swiss Colony enhance family gatherings and meals.
Monroe, Wisconsin (PRWEB) March 13, 2015
Hiding Easter baskets is a time-honored tradition that children look forward to each spring. Known for delicious seasonal desserts, The Swiss Colony has a classic and novel line up of candy-filled baskets with a variety of themes to commemorate Easter celebrations.
A Blue Bunny Basket joins its sister Pink Bunny Basket (both $21.95) to bring joy to kids on Easter morning. Brown plush rabbits with pink or blue outfits and ears carry a matching felt basket brimming with candy. Delicious treats include chocolate and Swiss creme grahams, Easter corn, peanut butter-flavored chocolates, foiled chocolate eggs and an Easter lollipop.
For kids who like dinosaurs, the new Dex and Dinah Dino Cutie Dolls ($24.95) offer a green or purple plush baby dinosaur that comes with special candy. Each holds a dinosaur-shaped lollipop and a Jelly Belly® egg of candy-coated chocolate with a gummi dino hidden inside for a sweet surprise.
Celebrate the season with a colorful Bunny With Lollipop ($19.95). This plush rabbit makes a great gift to send if relatives are separated by miles for Easter. An oversize, two-toned glitter lollipop will bring joy to the recipient.
Easter Petits Fours ($19.95) are each hand-decorated with bunnies, chicks and eggs. Trendy mini cakes feature vanilla, lemon, strawberry and orange flavors that would make a charming addition to Easter baskets.
"We've created a festive collection of joyous Easter baskets and flavorful desserts to enhance family gatherings and meals," says Becky Henke, VP of the Food Division at The Swiss Colony.
To see all of the Easter baskets and gifts available at The Swiss Colony, along with the company's traditional and novelty offerings including baked goods, chocolates, candies, meats and cheeses, shop online at http://www.swisscolony.com.
About The Swiss Colony
The Swiss Colony is a family-owned Wisconsin company that has been creating food gifts for nearly 90 years. The company insists on the highest quality ingredients for a large selection of festively packaged gifts for every occasion. Exclusive recipes developed by European Master Bakers and hand-decorated novelties like no other are just two of the reasons customers include The Swiss Colony as part of their holiday traditions year after year.
Jelly Belly®, is a registered trademark of Jelly Belly Candy Company, Fairfield, CA.