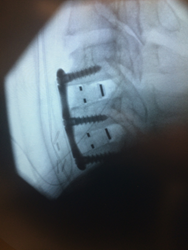 ...By incorporating hydroxyapatite (HA) into the PEEK Cage, fusion rates will improve...
(PRWEB) March 17, 2015
On March 11th, 2015, Dr. Jacob Rosenstein became the first surgeon in North America to implant Arena-C HA, an innovative spinal implant manufactured with PEEK-OPTIMA® HA Enhanced, a revolutionary new material that is utilized to enhance spinal fusion technology. This is the first time a device made with PEEK-OPTIMA® HA Enhanced has ever been implanted in a live human. He used this implant in an ACDF procedure to treat a patient suffering from spinal cord compression and myelopathy as a result of degenerative disc disease producing severe cervical stenosis. The procedure was completed at USMD Hospital in Arlington, TX
SpineFrontier's Arena-C HA is an inter-vertebral spacer made from biocompatible plastic designed to provide mechanical stability for patients who need spine surgery. This was the first implant ever to be made with Invibio's PEEK-OPTIMA® HA Enhanced, and was cleared by the FDA in October 2014. The material used in the implant incorporates hydroxyapatite, which is a naturally occurring compound in bony structures. The introduction of HA, which is fully integrated into the PEEK-OPTIMA Natural grade, provides a complete homogenous compound that ensures HA is present on all surfaces of a device. The implant, designed by SpineFrontier to provide mechanical stability for patients who need spine surgery, utilizes the revolutionary new biomaterial to enhance spinal fusion.
Dr. Jacob Rosenstein described the case: "The Arena-C HA PEEK-OPTIMA® cage is a potential game changer for interbody fusion devices. By incorporating hydroxyapatite (HA) into the PEEK Cage, fusion rates will improve as hydroxyapatite promotes osseointegration with direct bony in-growth into the cage, thus providing added stability and quicker healing. This is of great benefit to our patients who will heal faster and more predictably and return to normal activity sooner."
Dr. Rosenstein practices in Arlington, TX. He received his B.A. in Human Biology from Johns Hopkins University in 1976, where he was elected to the Phi Beta Kappa Society. He acquired his medical degree from the Johns Hopkins University School of Medicine in 1979. He was elected to the Alpha Omega Alpha Honor Medical Society there. In 1985, Dr. Rosenstein completed his residency and formal training in Neurological Surgery at U.T. Southwestern Medical Center/Parkland Hospital in Dallas, Texas. During his tenure he served as Chief Resident of Neurological Surgery. He undertook his Fellowship Training in Neurological Surgery at the Gough-Cooper Department of Neurology and Neurosurgery at the National Hospital for Nervous Diseases, London, England.
More about the Less Exposure Surgery Philosophy: To tailor treatment to the individual patient to have the quickest recovery and return to a pain-free lifestyle. If surgery is chosen, use Less Exposure Surgery techniques and technologies that lessen exposure proportionate to the problem and the patient, preserve unoffending anatomy, and utilize fundamental principles adapted to new technologies which are safe, easy to adopt, reproducible and lessen blood loss, surgical time, and exposure to radiation. The aim is to achieve maximal effectiveness for a rapid and less painful outpatient recovery.
To learn more about SpineFrontier visit http://www.spinefrontier.com. For more information about PEEK-OPTIMA HA Enhanced, please visit http://www.turbochargefusion.com.
About SpineFrontier Inc.
SpineFrontier Inc. (http://www.spinefrontier.com) is a growing medical device company that designs, develops and markets implants and instruments utilized for spine surgery. The SpineFrontier team focuses on developing innovative technologies and techniques for spinal surgery based on the Less Exposure Surgery (LES) philosophy. These technologies allow for same day outpatient surgery, due to minimal disruption of normal tissues. SpineFrontier believes LESS is more: LESS time in treatment and recovery is more time in action for our patients and surgeons. SpineFrontier is headquartered in Beverly, MA. It was founded in 2006, and released its first products in 2008. SpineFrontier is a KICVentures portfolio company and an exclusive manufacturer of LES technologies and instruments.
PEEK-OPTIMA® is a registered trademark of Invibio, Ltd. All rights reserved.