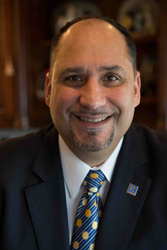 Perth Amboy, NJ (PRWEB) March 13, 2015
Art aficionados and individuals looking to enjoy a fun night out in support of community health will want to attend Raritan Bay Medical Center Foundation's 18th Annual Art Show "Inspirations for the Generations" Thursday, April 23, 6 to 9 p.m., at the medical center, 530 New Brunswick Ave, Perth Amboy, NJ. Longtime Woodbridge Township resident and City of Perth Amboy native Robert Durso will be the distinguished honoree at the event.
This chic evening includes an open bar, passed hors d'oeuvres, unique art available for purchase, live music by the Victor Quezada Jazz Trio and more. Featured artwork includes cigar box purses, soaps, sweets, paintings of watercolor and oil, wall sculpture, photography, jewelry, ceramics and glass. Tickets cost $50 per person and cash raffle tickets are available for $10 each. To purchase event or raffle tickets, contact the Foundation at 732-324-5374. Proceeds benefit the medical center's Center for Women. Raffle winners need not be present to win.
Robert is a Broker Associate for the J.J. Elek Realty Co. and a member of their Management Team. He began his career at J.J. Elek Realty in 1985. Over the years, Robert has been one of the top-producing agents, winning top salesman for the entire company in 1999, 2010 and 2011. He serves on the Board of Directors for the Middlesex County Association of Realtors. In 1991, he was named Realtor Associate of the Year for Middlesex County and is a "Million Dollar Club Award Winner"& "Circle of Excellence" recipient for the last 28 years. He has served on several Realtor Committees on both the state and local level, including their prestigious Community Service Committees. In 2004 Robert received the Professional of the Year award from the Perth Amboy Chamber of Commerce. And in 2009, the Distinguished Community Leader Award from the Prodigal Foundation. In 2010 Robert was named Citizen of the Year by the Woodbridge Metro Chamber of Commerce.
Robert was born and raised in Perth Amboy and is a graduate of Perth Amboy High School. He is a third generation businessman in the area. His grandfather Joseph Comento was the owner and operator of the Eagle Barber Shop located on Amboy Ave. for more than 30 years. His parents Neil and Gloria Durso owned and operated the Duralco Mfg. Co., on So. Second St., for 45 years. He is married to the former Kally Efermides and they are the proud parents of two sons, Nicholas, age 23, and Zachary, age 20. Robert and his family have resided in Woodbridge Township for the last 26 years.
Robert is an active member of the Perth Amboy Kiwanis Club and is currently their President and has served as a past president. He is a member and Chairman of the Board of Directors of the Puerto Rican Association for Human Development (PRAHD). Robert is a Member and Past Chapter Chair of the Central Jersey Chapter of the American Conference on Diversity. Additionally, he serves on the Middlesex County Multiple Listing Board of Directors and The Middlesex County Association of Realtors Board of Directors, Robert served on the Mayor's Police Advisory Board and the Municipal Juvenile Crime Enforcement Coalition for the City of Perth Amboy. He is a Past President of Our Lady of the Most Holy Rosary's Holy Name Society. He also served as a member of the Board of Directors of Perth Amboy's Boys and Girls Club and as their CVO, the Woodbridge Metro Chamber of Commerce, St. James Advisory Council and Chairman of their Building and Grounds Committee.
Robert and Kally are also active supporters of the Raritan Bay Medical Center Foundation where they have chaired the annual Harbor Lights ball. Robert has followed in the tradition of his parents and is committed to his family and actively participating in the improvement of the communities where he lives and works.