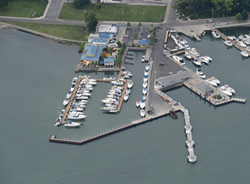 We realized we had an asset being the only location in the area where boaters can fuel up before departing on their leisure activities. John Matricardi did a great job of helping us turn that asset in to a first-class marina. - Marvin Booker, Marina Owner
Elyria, OH (PRWEB) March 17, 2015
Park Place Marina is preparing to open for its first full boating season in May 2015 after undergoing a major $2 million renovation and expansion. John S. Matricardi, P.E., director of coastal engineering services at civil engineering firm KS Associates, Inc., provided design, permitting, and construction engineering services for the project. The marina is located on Put-In-Bay, a popular Lake Erie boating destination on South Bass Island, located five miles off the shores of Sandusky and Port Clinton, Ohio.
In addition to offering public docking spaces, Park Place Marina services the new Park Place Boat Club, a private club with more than 300 members. The marina is a remodeling of the former Ladd's Marina, and offers nearly twice the amount of docking space. Floating docks have replaced deteriorated steel crib and fixed docks, which are safer and require less maintenance. The 60-slip marina can accept boats up to 50 feet in length and offers amenities including restaurants, private showers, wireless Internet, golf cart rentals, 30- and 50-amp electrical service, mooring buoys, and water taxi service.
The project also included a new 10-foot-wide, double sheet pile breakwater. The breakwater extends 266 feet northeast into Put-In-Bay Harbor and wraps around the face of the marina toward the east. The breakwater is designed to absorb the impact of waves, resulting in a more comfortable and safe journey into the marina and to the docks.
According to Park Place Marina and Boat Club Owner Marvin Booker, "We realized we had an asset being the only location in the area where boaters can fuel up before departing on their fishing or leisure activities. John Matricardi did a great job of helping us turn that asset in to a first-class marina, which an increased number of boaters can now enjoy."
About KS Associates, Inc.:
KS Associates, Inc. is a civil engineering and land surveying firm founded in 1987. The firm provides planning, design, bidding and construction phase services related to public infrastructure projects in the areas of transportation, potable water, waste water and storm water; site development engineering services for institutional, commercial and residential uses; coastal engineering services; land surveying and mapping services; and 3D laser scanning services. KS Associates, Inc. is a Disadvantaged Business Enterprise (DBE). For more information visit: http://www.ksassociates.com.