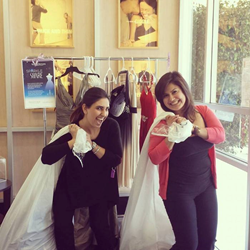 Prom is just one of many important experiences Olive Crest is committed to providing our youth.
Los Angeles, CA (PRWEB) March 13, 2015
Chic women in Los Angeles, Orange County and the Inland Empire can help teen girls from Olive Crest attend the prom in style this spring by visiting Robbins Brothers, The Engagement Ring Store. The company's 3rd Annual Sparkle & Share in-store dress drive benefiting the charity continues through Sunday, March 29, 2015. Patrons can drop off dresses at any of the seven Robbins Brothers locations in Southern California during normal business hours, and will be entered for a chance to win a beautiful diamond jewelry gift (one opportunity ticket per dress donation).*
"Each year we look forward to this community dress drive with Olive Crest," said CarolAnne Stevenson, director of brand and customer experience for Robbins Brothers. "It's such an honor to enlist the help of our customers and employees to help these young ladies shine at such a significant time in their lives."
"We are excited and blessed to have the opportunity to partner with Robbins Brothers to support the needs of our children and families," said Jaime Zavala, executive director of Olive Crest's Los Angeles region. "Prom is just one of many important experiences Olive Crest is committed to providing our youth, and the generosity of Robbins Brothers and its customers will ensure our teen girls have a beautiful and memorable night."
About Olive Crest
Since 1973, Olive Crest has transformed the lives of over 60,000 abused, neglected, and at-risk children and their families. We work tirelessly to meet the individual needs of kids in crisis by providing safe homes, counseling, and education for both youth and parents. Our many innovative programs reflect our conviction that strengthening the family is one of the most powerful ways to help heal children. With unwavering compassion, the Olive Crest family maintains a lifelong commitment to the youth and families we serve even after they have graduated from our programs.
Olive Crest serves nearly 2,000 children and families each day throughout California, Nevada, and the Pacific Northwest. For information call 1-800-550-CHILD(2445) or visit http://www.olivecrest.org.
About Robbins Brothers
An engagement and wedding ring retail company with freestanding stores located in Southern California, Houston, Dallas/Ft. Worth, Texas and Seattle, Washington Robbins Brothers serves as the destination for couples in love. While the company specializes in engagement ring settings and loose diamonds, it carries an extensive selection of wedding bands, promise rings, anniversary bands, three-stone rings, earrings, pendants and bracelets. The company features designers including Simon G., Tacori, Verragio, Coast Diamond and Kirk Kara. Onsite jewelers are available to set diamonds, create custom-settings and perform service and maintenance checks. Each location is furnished with a refreshment lounge and relaxation area with a television. Visit http://www.RobbinsBrothers.com to learn more.
###