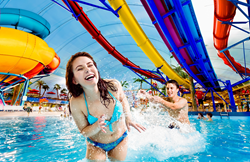 Niagara Falls, ON (PRWEB) March 13, 2015
Guests can choose a one-night stay between March 13 and April 12, 2015 at the Sheraton on the Falls, Crowne Plaza Niagara Falls-Fallsview, Skyline Inn, or Clifton Victoria Inn and experience Fallsview accommodations just steps away from the beautiful Niagara Falls.
Guests will receive incredible deals on Fallsview and casual dining with a Kids Eat Free dinner at Fallsview Buffet, The Rainbow Room by Massimo Capra, or Planet Hollywood, Kids Eat Free lunch at Planet Hollywood, Free Volcano Dessert at the Rainforest Café, and a special Hershey's Chocolate World gift.
To experience the best in entertainment, guests will also receive four tickets to Wild Safari Mini Putt, Traffic Slam Bumper Cars, Tour Bus SWAT Team Adventure Heroes Interactive Laser Ride, and the amazing Mega Magic Show, running from March 14-21, 2015. Room-only and Waterpark packages are both available, with the waterpark package offering four two-day Fallsview Indoor Waterpark passes.
"Niagara Falls is a top Spring Break destination that offers well-rounded family experiences with incredible sights, entertainment, dining, and accommodations just steps away from the world-famous waterfall," says Sarah Vazquez, Vice President of Business Development and Marketing at Falls Avenue Resort.
This year, guests who are unable to take advantage of the deal during Spring Break will have the option to experience it up until April 12, 2015. The room-only packages start from $99, while the packages including waterpark passes start from $169.
The participating properties are a part of the 20-acre Falls Avenue Resort and are interconnected with indoor walkways. The Resort is located directly across the street from the majestic Niagara Falls.
For more information and to book a Spring Break package, please visit http://www.FallsviewWaterpark.com/special-offers
Falls Avenue Resort is a 20-acre entertainment complex in Niagara Falls, Ontario that features properties such as the Sheraton on the Falls, Crowne Plaza Niagara Falls-Fallsview, Hard Rock Café, Hershey's Chocolate World Niagara Falls, Casino Niagara, and Fallsview Indoor Waterpark. The Resort is home to 35 meeting rooms, 1,200 guestrooms, 12 restaurants, and numerous entertainment sites and attractions.