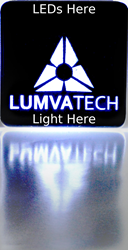 Seeing the backlight solutions on video is key to visualization of projects.
Anderson, SC (PRWEB) March 17, 2015
Lumvatech has created market specific playlists on YouTube. Completed projects in the POP and POS advertising arena and Human Machine Interface (HMI) markets are highlighted visually.
Visualization of LED backlighting in advertising and HMI switch matrices is a challenging step in the acceptance process. The industry specific playlists allow users to stir their imagination.
The Lumvatech LED light panel based backlighting is a revolutionary and cost effective method to accomplish what has historically been a difficult solution or came at high entry tooling costs. The ability to see finished projects presents high value to the designers who must convince management to consider new technology.
The Lumvatech channel has been recognized as one of the fastest growing in the YouTube universe among business to business (B2B) channels. The use of social media marketing including YouTube, LinkedIn, Facebook, and web site based marketing has proven highly successful. Viewings of company videos increased to 10,000 in the last year alone.
Lumvatech design, production, and sales are based in the United States. The bulk of the customers are also US based which leverages the benefit of domestic production. A broad multi-national customer base has also developed. Light panels have been shipped to customers in Europe, South America, India, and Asia.
"The value of social media marketing cannot be overstated" commented Aaron Meltzer president. "Our ability to grow sales outside the country at minimal cost provides us excellent return on investment."
The company adopted an automated email, social media marketing, and press release software suite in late 2014. "The ability to share our durable content with a world wide audience is critical" stated Martin Proctor, Director of New Business/Market Development. "We make significant investment in the creation of useful and technically sound content. It is a critical part of our growth strategy."
The POP/POS and advertising play list can be reached by CLICKING HERE.
The industrial, white goods, HMI play list can be reach by CLICKING HERE.
About Lumvatech
Lumvatech is a leading U. S. based manufacturer of ultra thin planar light panels for LED backlighting. Custom thin solutions for backlighting of POP displays and signage, logo nameplates, and human machine interfaces with dome, membrane, and touch switches. Lumvatech products are available to the HMI manufacturing and advertising production channels exclusively.
To gain additional information please see http://www.Lumvatech.com or send an email to sales(at)lumvatech(dot)com
For a review of Lumvatechs product portfolio see our Lumvatech channel at youtube or follow Lumvatech on Linked In.