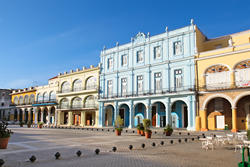 The people were so warm and welcoming. The cities were so vibrant, full of music and art. There is so much natural beauty. And the villages and towns we visited felt untouched by time.
Media, PA (PRWEB) March 18, 2015
Untours has added new 2015-16 dates for its popular People-to-People yacht cruises of Cuba. This guided tour includes time in Havana, Trinidad and Cayo Largo, and focuses on the local history, ecology, and culture of each community.
New embarkation dates were announced for every Saturday from December 19 - April 2, 2016. Untours has also announced a 10% discount on its February 20th sailing.
Spring 2015 dates have filled quickly, though there is still limited availability for this April.
"We are overwhelmed by demand for this new travel experience," says Brian Taussig-Lux, Untours General Manager.
Interest in travel to Cuba has intensified since the December announcement that the US will normalize relations with Cuba. The New York Times reports Google searches for travel in Cuba increased 809% in the days after President Obama's announcement.
"Our first guests traveled to Cuba just ahead of this announcement," says Taussig-Lux.
Dee McConnell, the coordinator of Untours' Marketplace division, which sells this and other specialty, small-boat cruises, was among their first guests in Cuba.
"It was an amazing experience," she says. "The people were so warm and welcoming. The cities were so vibrant, full of music and art. There is so much natural beauty. And the villages and towns we visited felt untouched by time."
The tour includes time in Havana. Excursions from there include a trip into the eco-community of Las Terrazas in the nearby mountains of the Sierra del Rosario, a stop at an old colonial coffee plantation, and a visit to the Quisicuaba Community to learn about Afro-Cuban culture. In visits to community centers and private homes, guests learn about education, medical care and the arts in Cuba.
The boat's coastal stops include the Guanahacabibes National Park. Here guests meet with local naturalists and environmentalists. Time in Cayo Largo includes a visit to a sea turtle breeding center and time for snorkeling. The boat also visits the Spanish colonial city of Trinidad, which guests explore with a local architecture guide, visiting artists' homes and studios.
The tour also includes time in the French colonial city of Cienfuegos, a UNESCO World Heritage site where guests join a walking tour of the town's architecture and history, then meet with local artists. A concert and salsa classes cap the experience.
"Our first group of clients has raved about their experiences in Cuba," says Taussig-Lux. "Guests talk about the incredible interactions they are having with local people on this trip. Our local guides are knowledgeable and tuned in, and the crew is tops."
Guests sail on the S/C Panorama, a 177-foot 3-masted sail cruiser with just 25 cabins. It was renovated in 2009, and its common spaces include a dining room, sundeck, bar and lounge.
Tourist travel to Cuba is still restricted to educational People-to-People visits like the Untours Cuba cruise. The cruise package includes a Cuban visa, mandatory medical insurance and flights from Miami.
"I would encourage visitors to get to Cuba now," says McConnell, "before barriers to US travel are lifted completely and the atmosphere there changes."
"Our mission has always been to foster cross-cultural learning and understanding," says Taussig-Lux.
Untours' core product features apartments stays and knowledgeable on-site hosts who welcome guests into small villages and residential neighborhoods across Europe for a more local experience of the culture and place. The company has operated since 1975, and popular Untours include Switzerland, Alsace, and Tuscany.
"Even before interest in deep travel and local experiences peaked, we were selling our Untours vacation packages and helping people connect with the culture in Europe," Taussig-Lux says.
"As more people seek meaningful engagement with new cultures, adding travel options for Cuba seemed natural. It is exciting to see that culture opening up to Americans."