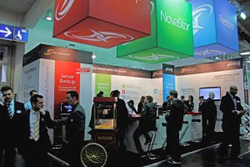 With our presence at CeBIT, we offer a starting point for anyone concerned with the issue of backup and restore.
Agoura Hills, California (PRWEB) March 16, 2015
NovaStor ®, an international provider of award-winning backup and restore software, presents for the first time in multiple locations at CeBIT 2015, the world's largest and most international computer expo. At the 45-square-foot primary exhibit booth in Hall 2, A41- the NovaStor team will present to all interested parties, their unique NovaBACKUP product lines for both server and network backup. The latest technology innovations in backup and restore will be presented through live demonstrations while NovaStor's support engineers will be in attendance to provide useful application notes and advice for different data protection scenarios. The Account Management team will also be standing by to suggest appropriate backup and restore solutions to interested attendees based on businesses technology and budgetary requirements.
This large presence at CeBIT 2015 is supplemented by an additional exhibition booth at the "Planet Reseller" showcase. In Hall 15 at the api Computerhandels GmbH booth location, all retailers and system integrators have the opportunity to learn more about NovaStor backup and restore solutions.
Mike Andrews, Managing Director at NovaStor, looks at CeBIT 2015 with optimism: "With our presence at CeBIT, we offer a starting point for anyone concerned with the issue of backup and restore.
Similarly to last year, there will be a large NovaStor Exhibit in Hall 2. As an international provider of backup solutions with locations in the US and Hamburg, it is critical for us to keep in direct contact with our clients and partners. This year we are for the first time also accessible at the Planet Reseller showcase in the 'api Computerhandels GmbH' booth, who have joined us as a distributor in the last year. This is a great way to precisely address the issues that IT dealers and system integrators face when it comes to backup and restore."
About NovaStor
NovaStor® (http://www.novastor.com) is an international provider of powerful, affordable, all inclusive data-protection solutions for physical and virtual environments. NovaStor provides backup & restore solutions to Enterprise environments as well as Small Businesses, to protect data on Both Sides of the Cloud. NovaStor's Enterprise solution NovaBACKUP DataCenter brings F500 references, scalability, reliability and speed to medium-large heterogeneous environments; a single pane of glass designed to reduce administrative effort and lower TCO. NovaStor is management-owned with over 1,000 partners, and millions of seats distributed. With global headquarters located in Zug, Switzerland and offices in Germany (Hamburg) and the USA (Agoura Hills), NovaStor is also represented in numerous other countries through partnerships.