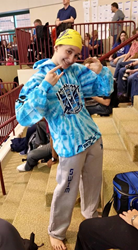 I know a cure is out there, we just have to raise the money and keep pushing ahead.
Livonia, MI (PRWEB) March 13, 2015
Cure HHT, the only US nonprofit organization that supports HHT patients and their families, is happy to announce that Jody and Clay Nissan, mother and father of two children with HHT, will host the 3rd annual Night of Hope.
The event aims to educate the public about hereditary hemorrhagic telangiectasia (HHT) and raise funds for Cure HHT, whose mission it is to develop awareness, research, treatment and a cure for people living with HHT.
"When HHT digs its claws in your family, it can turn your world upside down financially, physically and emotionally," said Jody Nissan, whose husband Clay also has HHT. "I know a cure is out there, we just have to raise the money and keep pushing ahead."
It is events like Night of Hope that make it possible for people with HHT to find the right treatment, which enables them to continue following their dreams. One such example is Skye Urbanek, a 12-year-old competitive swimmer.
Skye recently competed in the 2015 Michigan Blue Junior Olympics, something that would have been impossible if she had not be accurately diagnosed and treated for HHT.
Skye's mother, Jennifer Urbanek, has been a great support of Cure HHT and has helped organize Night of Hope since its inception. Jen knows that the resulting Cure HHT donation will continue to support her daughter as well as other children and adults living with HHT.
"Without events like Night of Hope, Cure HHT would not have the funding it needs to grow treatment centers, partner with pharmaceutical companies for drug tests or hold focus groups," said Cure HHT Executive Director Marianne Clancy. "We depend on families like the Nissans and Urbaneks to keep the search for a cure moving forward."
Those interested in attending the event or conducting interviews can contact Christine Kirkley at christine.kirkley(at)curehht(dot)org or 410-357-9932.
About Cure HHT:
Cure HHT is the only 501(c)(3) non-profit organization in the world committed to bringing together international thought leaders, working collaboratively to find a cure for HHT. Cure HHT is also the sole provider of HHT education programs and resources for patients and physicians worldwide. For more information, visit http://www.curehht.org.