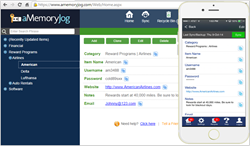 Mission Impossible? aMemoryJog can self-destruct if your iPhone is lost or stolen
Panama City Beach, FL (PRWEB) March 25, 2015
Flip Flop Software announced the release of its new iPhone app aMemoryJog. The iPhone app securely stores passwords and other private information (accounts, frequent flyer information, reward cards and more). Information is backed up to the cloud and secured with 256-bit encryption. A unique feature allows iPhone users to remotely self-destruct the password data if their phone is lost or stolen.
The basic aMemoryJog iPhone edition is free. It allows users to categorize and track passwords and other easy-to-forget information. aMemoryJog auto-fills userid/passwords for websites, fostering easy access to secure sites. Available worldwide, aMemoryJog supports 8 languages. Additional features are available in the Professional edition and is accessible via an in-app purchase of $9.99.
The Professional edition includes all of the features of the free edition but additionally provides backup and sync support. It is bundled with a free 1 year subscription to the web-based edition that allows users to access their information from the PC, Mac, tablet, or any other web-enabled mobile device with all information being synced. If the user's phone is lost or stolen, they can set it to remotely self-destruct, protecting unauthorized access. As part of a launch promotion, aMemoryJog Pro is being offered for half price ($4.99) until April 25, 2015.
aMemoryJog is developed by Flip Flop Software, a mobile development company founded in 2013. A press kit is available at http://www.amemoryjog.com/Press-Kit.aspx.