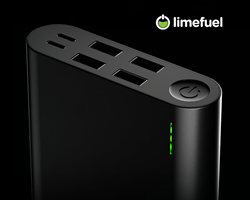 This is the first portable charger that will support the new USB Type C.
Boulder, Colorado (PRWEB) March 12, 2015
Limefuel announces new Macbook charger specifically designed around new USB Type C technology for quick, efficient charging of newer devices.
For those who wish to travel without the worry of an outlet nearby, the new 24,000mAh portable Macbook charger from Limefuel will keep your laptop going all day long. This is the first portable charger that will support the new Type C standard for the recently announced 12 inch Macbook. Our new charger will feature two Type C ports and four USB ports for charging of all other mobile devices. Limefuel's new Macbook charger also features pass-through technology allowing multiple devices to charge at the same time. Wherever your travels take you, the new Limefuel charger will keep your devices fueled while on the go.
Availability
The new Limefuel charger will be available in the second quarter of this year through Kickstarter with an MSRP of $149.99.
About Limefuel
Limefuel was established in 2013 in Boulder, Colorado. The company produces cutting-edge external batteries for smartphones, tablets and other devices, maximizing battery capacity within the smallest possible form factors by pushing the boundaries of what current technology will allow. For more information, visit http://www.limefuel.com.
If you have any questions about our company or product, please contact us at support@limefuel.com