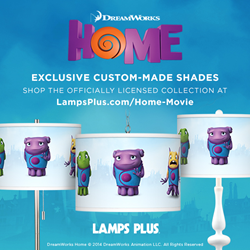 Our commitment to creating and offering innovative products that help consumers make their houses 'home' made this alliance with DreamWorks a natural fit for Lamps Plus.
Los Angeles, California (PRWEB) March 23, 2015
Leading lighting retailer Lamps Plus today announced that it has aligned with DreamWorks Animation to launch a new line of officially licensed lamp shades and lighting in connection with the studio's new animated family feature film, "HOME," which will be in theaters nationwide March 27. The Lamps Plus designs are made-to-order with hand-assembled shades that feature the film's lovable character, "Oh," making them a perfect way to bring the movie magic home.
In conjunction with the launch of the licensed product, Lamps Plus will host a national sweepstakes in which one lucky person will win a private screening of the film for 100 friends and family. Participants can enter today through April 3 via the company's Facebook page at Facebook.com/LampsPlus.
Lamps Plus will promote the officially licensed shades in its catalogs, store locations, emails, website, and across its social media channels throughout the partnership. The licensed "HOME" lighting products are available now through December 2015, and can be found on the company's website at LampsPlus.com/Home-Movie.
"Our commitment to creating and offering innovative products that help consumers make their houses 'home' made this alliance with DreamWorks a natural fit for us," said Dennis Swanson, President and CEO of Lamps Plus. "In the movie, there's an entertaining scene in which the invading Boov find themselves in a lamp store that is similar to our retail locations, which have served as a lighting resource for the entertainment industry for decades, especially in the Southern California area."
"HOME" introduces audiences to Oh, a lovable misfit from another planet who lands on Earth and finds himself on the run from his own people, when he forms an unlikely friendship with an adventurous girl named Tip who is on a quest of her own. Through a series of comic adventures with Tip, Oh comes to understand that being different and making mistakes is all part of being human, and together they discover the true meaning of the word "HOME."
The "HOME" lighting collection is the latest installment in the Lamps Plus art shade program, which offers original and licensed artwork on lamp shades using the company's patented, high-quality Giclée printing process. Official "HOME" lighting is available in floor lamps, table lamps, swag chandeliers and lamp shades, starting at $69.99.
About Lamps Plus
For more than 30 years, Lamps Plus has been synonymous with excellence in the retail lighting industry. Established in 1976, Lamps Plus is the nation's largest specialty lighting store, with more than 40 superstores throughout the western United States. In 2014, LampsPlus.com was named a Top 10 Housewares/Home Furnishings e-tailer and a "Hot 100" world's best retail website by Internet Retailer Magazine. Together with its retail locations, the company serves customers nationwide with the largest selection of functional and decorative lighting fixtures, accessories, furniture and home decor.
This selection includes hundreds of products, ranging from traditional chandeliers to the latest in home decor, available exclusively from Lamps Plus. The company also holds several patents for innovative lighting. Services offered include in-home lighting consultations, in-store workshops and installation from expert, licensed electricians. American Lighting Association certified designers are available to offer product recommendations and advice in all our stores, by phone or online at LampsPlus.com. The Lamps Plus family of websites also includes 55 Downing Street and Lamps Plus Open Box. Visit the official Lamps Plus website: LampsPlus.com.
DreamWorks Home © 2015 DreamWorks Animation LLC. All Rights Reserved