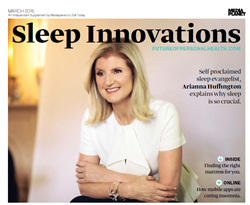 (PRWEB) March 13, 2015
The print component of "Sleep Innovations" will be distributed within this weekend's edition of USA Today, in New York, Chicago, Los Angeles, South Florida, Washington DC, Baltimore, and Seattle, with a total circulation of approximately 450,000 copies and an estimated readership of 1.3 million. The digital component is being distributed nationally through a vast social media strategy and across a network of top news sites and partner outlets. To explore the digital version of the campaign, click here.
Sleep evangelist Arianna Huffington is featured on the cover of the print edition. In an exclusive interview with publishing icon, she shares why sleep is such an important factor of overall health and wellbeing. "Our creativity, ingenuity, confidence, leadership and decision making can all be enhanced simply by getting enough sleep," she states.
This campaign was made possible with the support of the American Academy of Sleep Medicine, American Sleep Apnea Association, International Sleep Products Association, Cleveland Clinic, Arianna Huffington, Dr. Richard Shane, Dr. Judith Owens, Mattress Firm, Inspire, Reverie, BedGear, Casper, Acoustic Sheep, Contour Health, and Marpac!
About Mediaplanet
Mediaplanet is the leading independent publisher of content-marketing campaigns covering a variety of topics and industries. We turn consumer interest into action by providing readers with motivational editorial, pairing it with relevant advertisers, and distributing it within top newspapers and online platforms around the world.