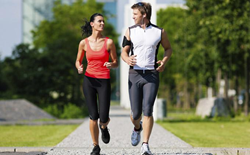 At Swissôtel, our Vitality philosophy encourages a holistic approach to health and well-being, improving the overall quality of life for our clients, guests and colleagues alike.
Chicago, IL (PRWEB) March 13, 2015
Celebrating the third anniversary of Swissôtel Hotels & Resorts popular Vitality program, Swissôtel Chicago will host an interactive Vitality Day event on Saturday, March 21 that mixes everything the program has to offer with the vivacity of Chicago. In an effort to promote the Vitality philosophy of healthy living and physical and mental fitness, Swissôtel Chicago is inviting Chicagoans to participate in a thrilling Vitality Challenge, where teams will visit 'pit stops' around the city, each with a different Vitality-themed task to complete. All participants will have the chance to raise money for SOS Children's Villages Illinois, and will be eligible for prizes, including a trip to Switzerland, courtesy of Swissôtel and Swiss International Air Lines. Registration is free, and open to the public by visiting http://www.swissotel.com/vitality-day.
"At Swissôtel, our Vitality philosophy encourages a holistic approach to health and well-being, improving the overall quality of life for our clients, guests and colleagues alike," said Mark Huntley, Regional Vice President, Central U.S.A., and General Manager, Swissôtel Chicago. "Our goal with Vitality Day is to have some fun with the concept of Vitality, and spread awareness of its importance on a larger scale throughout the city."
Co-hosting Vitality Day is world-renowned mountaineer and star of the IMAX movie The Alps, John Harlin. Beginning at 11am on March 21, teams will be faced with a series of Vitality-themed quests around the city, e.g. yoga in front of The Bean, a puzzle in the Chicago Cultural Center, etc. Clues to each mission will be given in the form of a riddle, and teams will be required to perform the given activity and post a photo on social media with the hashtag #SwissVitality. The stations will also contain different charity "bonus" features, all of which are worth an additional donation to SOS Children's Villages Illinois from Swissôtel Chicago.
The Vitality Challenge will conclude at Swissôtel Chicago, where a specialty suite with panoramic views of the city has been transformed into a Vitality Lounge. Participants will celebrate with a Vitality cocktail bar and bites, hands-on healthy cooking and fitness demonstrations, drawings for prizes and more. Vitality Day will officially conclude by 3pm.
Swissôtel Hotels & Resorts is celebrating Vitality Day globally with the launch of a series of new destination Vitality Guides, in partnership with John Harlin. An extension of the Vitality program, which inspires travelers to maintain an active and energized body and mind while on the road, the Guides are interactive digital maps that showcase key attractions and local discoveries within walking distance of Swissôtel locations. The Guides also have an interactive component that allows guests to pinpoint and share interesting attractions they discover while exploring the destination. At launch, the Guides will be available in Amsterdam, Ankara, Bangkok, Berlin, Bremen, Chicago, Dresden, Dusseldorf, Foshan, Geneva, Istanbul, Kolkata, Moscow, Osaka, Shanghai, Singapore, Sochi, Sydney, Tallinn, and Zurich, with more destinations to be added throughout the year.
Swissôtels around the world will be holding special events on March 21 to celebrate Vitality Day, providing guests and community members with an opportunity to take advantage of the new Guides. Vitality city tours are being planned around Swissôtels in Zurich, Tallinn, Amsterdam and Ankara while properties in Berlin, Istanbul, Kunshan and Singapore will host special exercise and health and wellness classes.
The new Vitality Guides, which are optimized for mobile viewing and housed on the Jauntful platform, can be found here.
About the Vitality Program at Swissôtel:
Vitality is one of the three pillars of the Swissôtel brand personality – along with sustainability and Swissness. In staying true to their Swiss heritage, Swissôtel puts the focus on the wellbeing by offering different opportunities for stimulating physical and mental fitness in its guests own time and comfort zone. The core areas of the program include: Vitality in meetings, Vitality in cuisine, and Vitality in movement. To that end, Swissôtel Chicago offers boot camps and morning runs for guests as well as the public, in-room exercise equipment and instructional cards, Vitality healthy menu offerings and Vitality-themed breaks for meeting attendees.
About Swissôtel Hotels & Resorts:
Swissôtel Hotels & Resorts got its start in Switzerland, a country known for big mountains and equally high standards of living. Its contemporary Swiss style and locally inspired flair attracts business and leisure travelers who enjoy high-end hotels but prefer fresh innovation to stale pretension. Conveniently located where travelers want to be, Swissôtel provides guests with the opportunity to stay in the heart of city centers worldwide where access to business and shopping districts are right around the corner. Swissôtel properties can be found in over 30 well-located properties around the world, with many more in development. As guests of the world, every Swissôtel upholds Swiss sustainability standards. In fact, Swissôtel has a mission: to treat guests, team members, and the environment with equal respect. Swissôtel is part of FRHI Hotels & Resorts, a leading global hotel company with over 110 hotels under the Raffles, Fairmont, and Swissôtel brands. But no matter how international Swissôtel becomes, just like the country it was founded in, it remains a small hotel at heart. For more information or reservations, please visit http://www.swissotel.com.
Find us online:
Facebook: http://www.facebook.com/swissotelchicago
Twitter: @swissotelchi
Instagram: @swissotelchi