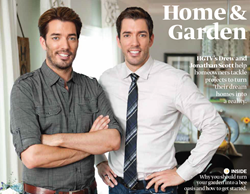 Spring Cleaning is not just about decluttering your home
(PRWEB) March 13, 2015
Nearly 70 percent of homeowners are planning to tackle a home renovation project in 2015. Today Mediaplanet is proud to announce publication of "Home and Garden," a one-stop-shop for homeowners seeking new ways to spruce up their home this spring, inside and out.
The print component of "Home and Garden" is distributed within the weekend edition of USA TODAY. This 12 page glossy, full-color special section hits newsstands Friday, March 13th, distributed within the centerfold of USA Today in highly targeted markets totaling approximately 450,000 copies and an estimated readership of 1.3 million. The digital component is distributed nationally through a vast social media strategy and across a network of top news sites and partner outlets, including Apartment Therapy, The National Association of the Remodeling Industry, the National Kitchen and Bath Association, O-Cedar and many more. To explore the digital version of the campaign, click here.
"Home and Garden" will encourage readers to get out of winter hibernation and ready for spring with DIY, safety and innovative design tips for every project homeowners may tackle. "Spring Cleaning is not just about decluttering your home," the Scotts explain, "It's also fixing any damages or wear from the winter months."
Apartment Therapy founder Maxwell Ryan also shares his insight into the best way to avoid DIY catastrophe. "It's common to forget that watching is totally different from doing, and that the process will inevitably not be the same for you. Start on smaller projects and work your way up to larger endeavors."
Within this publication, readers will be introduced to inspiring editorial and empowering advertisements to help readers take the next step.