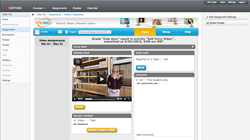 The Canvas partnership is the next step in our ongoing commitment to improving the learning experience for all students.
Loveland, Colorado (PRWEB) March 16, 2015
YouSeeU, an educational technology company, today, March 16, 2015, announced it has attained Certified Partner status with Canvas by Instructure, a leading learning management system. YouSeeU provides video-based, high-engagement learning experiences that now seamlessly integrate into the Canvas LMS, http://www.canvaslms.com, so educators can offer students a more engaged experience incorporating authentic assessment.
"The Canvas partnership is the next step in our ongoing commitment to improving the learning experience for all students," said Dr. Jeff Lewis, YouSeeU founder and Chief Learning Officer. "It creates a seamless experience when using YouSeeU for our innovative assignments involving student generated video."
While YouSeeU has already integrated with Canvas at multiple institutions, becoming a Certified Partner is evidence of both platforms' continued commitment to higher education, innovation and student success. "We are pleased to have YouSeeU join as a Certified Partner within our Canvas partnership program," said Melissa Loble, head of Canvas Partnerships. According to Loble, in order to become a Certified Partner, the integration between YouSeeU and Canvas was vetted by the Canvas team to provide customers of both platforms the assurance that the integration is technically sound and allows for successful learning opportunities. "We believe that YouSeeU's video-based collaboration and assessment tools promote more engaged learning and are very complimentary to our platform and mission," added Loble.
YouSeeU joins a list of widely-respected, industry-leading Canvas partners such as Pearson, McGraw-Hill, Wiley and Adobe as part of their cloud-native learning management system which is used by more than 1200 colleges, universities and school districts and by more than 18 million students and teachers.
Educators will have the opportunity to explore YouSeeU's enriched learning experience and its latest enhancements this spring at several events, conferences and trade shows.
"This partnership is a good fit for us because, our technologies complement one another." said Jay Dokter, YouSeeU CEO. "Like Canvas, we provide innovative tools that enhance the online learning environment and provide measurable outcomes. The timing of this also works well with our introduction of the new YouSeeU 3.0 platform and related enhancements."
To learn more about how YouSeeU can enhance the student and instructor experience in your virtual classrooms, visit our website, http://www.youseeu.com.
About Instructure
Instructure, Inc. is the software-as-a-service (SaaS) technology company that makes smart software that makes people smarter. Its cloud-based Canvas learning management system (LMS) now connects more than 18 million teachers and learners at over 1,200 institutions of learning throughout the world. Because learning doesn't end after graduation, Instructure also offers Bridge, the modern learning and engagement platform that enables organizations of every kind to engage with employees by measuring and improving employee sentiment, alignment, and knowledge in real time. Learn more at http://www.Instructure.com.
About YouSeeU
YouSeeU is an educational technology company, providing synchronous and asynchronous environments that enrich the online learning experience through student- and instructor-generated video. Enabling deeper connections between participants, YouSeeU broadens student engagement, improves outcomes and increases retention. A rapidly growing number of higher education institutions around the world are using YouSeeU to enhance teaching and learning through high-engagement activities such as oral communication assessment, spontaneous response Q&A, presentations, and student demonstrations of key skills. To learn more, visit http://www.youseeu.com, or find YouSeeU on Twitter and Facebook.