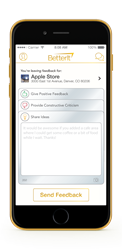 Put simply, we can't see a reason why a business wouldn't use this technology.
Denver, CO (PRWEB) March 16, 2015
Today, BetterIt Communications, a Denver startup developing a disruptive SAAS technology positioned to upend the way businesses interact with their customers, completed an initial seed round of funding led by VC firm Redwood Capital Ventures valuing the company at $3,000,000. Redwood's investment in BetterIt Communications will allow the company to aggressively market its flagship product, a mobile-first platform named BetterIt, to select markets across the country.
"Given the enormous size of the potential market, the value that the BetterIt technology brings to businesses in the form of improved efficiency, customer loyalty, and positive word-of-mouth, and the founders' focus on revenue generation, this investment meets our criteria for value oriented strategic investments in the tech space," said a Redwood representative speaking on behalf of the partners. "Put simply, we can't see a reason why a business wouldn't use this technology."
BetterIt allows users to leave anonymous feedback for any business in under 30 seconds and encourages businesses to reward helpful feedback. Ultimately this helps the business to provide a better customer experience, as well as strengthen the relationship with its customers, leading to increased loyalty and positive word-of-mouth. Leading companies in the customer review and feedback sector include Yelp with a current market cap of $3.49B.
About BetterIt Communications: BetterIt Communications Inc is the Denver-based company behind the mobile SAAS platform BetterIt. The company specializes in the creation of technology products that drive collaborative problem solving and value creation.
About Redwood Capital Ventures: Redwood Capital Ventures is a value-oriented VC firm focused on early-stage capital investments in disruptive technologies with strong near-term revenue generation capacity.