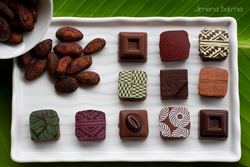 They are Costa Rican through and through, making sure they keep our country clean through their environmental initiatives and making their chocolates purely Costa Rican.
Manuel Antonio, Costa Rica (PRWEB) March 13, 2015
Tulemar Resort, located in Manuel Antonio, Costa Rica, is proud to expand on its longstanding partnership with Sibu Chocolates by adding the Costa Rican gourmet chocolate company's assorted chocolate bars to their supply for sale. Tulemar, a unique resort with privately owned vacation bungalows and villas for rent, first started working with Sibu in 2006, when the chocolate company was in its infancy.
The relationship began as an opportunity for Tulemar to leave complimentary gourmet chocolates for their guests, and for Sibu to get their name out. That partnership quickly expanded, as Tulemar guests couldn't get enough of the chocolate. The resort advanced to selling the chocolates from their concierge desk, once again helping Sibu's name grow and keeping their guests content with the delicious and unique treats.
The need for expansion came again in 2015, as demand continued to grow. In February, Tulemar introduced Sibu's chocolate bar line and began selling them in the Manuel Antonio area. The expansion has been hit, with locals and guests enjoying the new selection. The new flavors offered are coffee, toffee, chai spice and cayenne pepper, crystallized ginger dark chocolate, and the classic dark chocolate and milk chocolate flavors.
Sibu has been renowned for their unusual flavors, using spices and tropical fruits that are unique to Costa Rica, including bonbons made with lime and basil, mint tea, lemongrass and coriander, honey and lavender, ginger and coconut milk, and even passion fruit. In fact, the company's entire vision focuses around its country.
The name Sibu, comes from the creator god of the Bribri, an indigenous people of Costa Rica. The creator god, Sibu, was said to have spread the seeds of life, giving the world chocolate. Founders George Soriano and Julio Fernandez Amon take immense pride in Costa Rica and when starting Sibu, wanted to make sure all of the chocolate was made start-to-finish in Costa Rica. The cacao beans are all harvested from a plantation on the Atlantic side of Costa Rica and all of their other unique ingredients are organic and local as well. Even the designs on the chocolates are inspired by pre-Columbian motifs that are rich with native Costa Rican history.
Tulemar spokesperson, Dave Houck, commented on the resort's relationship with Sibu saying, "For us, Sibu is the perfect company to support and to present to our guests. They are Costa Rican through and through, making sure they keep our country clean through their environmental initiatives and making their chocolates purely Costa Rican. For our guests, it's the perfect choice to have when looking for authentic gourmet Costa Rican treats."
Houck went on to talk about the expansion of Tulemar's Sibu line, adding, "I'm ecstatic that we can continue to show Sibu to our guests from around the world and give them a chance to experience another great part of this country. George and Julio are amazing Master Chocolatiers, and learned from Master Chocolatiers all over the world. With the benefit of using some the best chocolate from around the world with their creativity and skill, they are making something truly special. The fact that they can cultivate such a unique local product that embodies our country and its history makes for the perfect situation for us to support and sell."
Tulemar sells the handmade chocolates at both of its offices in Manuel Antonio, at Tulemar Resorts and its off-site office under Agua Azul Restaurant. The luxury resort now offers Sibu assorted bars, cacao nibs, drinking chocolate powder, and bonbon gift boxes.