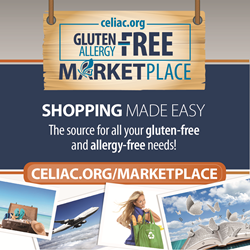 Celiac Disease Foundation's goal is to become a destination website for all searches relating to celiac disease and the gluten-free lifestyle.
Woodland Hills, CA (PRWEB) March 17, 2015
Underscoring its role as a leader in online tools for the gluten-free community, Celiac Disease Foundation (CDF) today announced the launch of the Gluten-Free Allergy-Free Marketplace, a new retail destination hosted on celiac.org. Featured at celiac.org/marketplace, the Marketplace showcases products and services from companies that care about the gluten-free and allergy-free community, and have made a deep commitment to supporting CDF's mission of diagnosis, treatment, and a cure for celiac disease.
The Marketplace allows consumers to browse by dietary preferences, including special medical, dietary, and religious requirements, and view product pictures, ingredients, and nutrition facts. Marketplace users can connect with companies for coupons, discounts, and recipes, create shopping lists, and support CDF by purchasing products with a single click. CDF's Gluten-Free Allergy-Free Marketplace is the only comprehensive one-stop shop for alternative dietary needs. The Marketplace revolutionizes gluten-free shopping, making specialty foods, services, and products easily accessible to the public. Marketplace users also have access to CDF's other tools, including the Symptoms Checklist, Healthcare Practitioner Directory, and 7-Day Kick Start Meal Plan.
"Celiac Disease Foundation's goal is to become a destination website for all searches relating to celiac disease and the gluten-free lifestyle," said Marilyn G. Geller, Chief Executive Officer of Celiac Disease Foundation. The Gluten-Free Allergy-Free Marketplace provides access to life-enhancing products and services, while allowing consumers to support both CDF and the companies who support the CDF mission.
Since its new website launch in 2014, the charitable non-profit has seen a 1400% increase in visitors to celiac.org. A Marketplace app for Apple's iOS will be available in the second quarter of 2015. An Android app is planned for the fall.
About Celiac Disease
Celiac disease is a genetic autoimmune disorder characterized by an inability to consume gluten, a protein found in wheat, rye, and barley, without damage to the small intestine. Affecting 1 in 100 people worldwide, celiac disease can develop at any age. More than 3 million Americans are known to have celiac disease, with an estimated 2.5 million Americans currently undiagnosed and at risk for serious health complications including: lymphoma, intestinal cancers, type 1 diabetes, multiple sclerosis, anemia, osteoporosis, infertility and miscarriage, neurological conditions like epilepsy and migraines, and short stature. Celiac disease is not curable; however, it is treatable, and can be managed though strict adherence to a gluten-free diet.
________________________________________
About Celiac Disease Foundation: Founded in 1990, Celiac Disease Foundation drives diagnosis and treatment of celiac disease through advocacy, education, and advancing research to improve the quality of life for all people with gluten-related disorders. For more information about Celiac Disease Foundation or to support the work it does, please visit celiac.org.