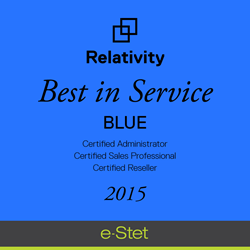 [e-Stet] dedicated a great deal of time and effort to providing their clients with outstanding customer service and an excellent Relativity experience.
Los Angeles, CA (PRWEB) March 17, 2015
e-Stet today announced that they have earned kCura's Relativity Best in Service designation, which recognizes Relativity Premium Hosting Partners who provide an exceptional Relativity experience for end users. Founded in 2007, with offices in Los Angeles and San Francisco, e-Stet provides eDiscovery and information governance solutions for law firms and corporations nationwide.
e-Stet's ranks include Bhuvan Singh, one of an exclusive group of Relativity Experts. Relativity is an eDiscovery platform developed by kCura and is used by 195 of the 200 largest law firms in the United States.
"We are impressed by the scrupulous process put together by kCura for their partners to receive the Best in Service certification. It leaves no stone unturned, and we are proud to have achieved it," said Michael Dunn, Chief Operating Officer of e-Stet. "Being a Best in Service partner is an important piece of the puzzle in being an industry leader. We also strive to provide great infrastructure, technical expertise, and project management professionals for our law firm and corporate partners."
Through a voluntary audit, Relativity Best in Service partners demonstrate their expertise and experience hosting projects in Relativity. kCura evaluates these partners' individual data centers in three areas: technical infrastructure, customer service, and product expertise. Additionally, Best in Service partners meet a set of requirements for their duration as a hosting partner, size of Relativity installations, and core Relativity certifications.
"We're excited to recognize e-Stet as a Relativity Best in Service partner," said Andrew Sieja, president and CEO of kCura. "They've dedicated a great deal of time and effort to providing their clients with outstanding customer service and an excellent Relativity experience."
About e-Stet
e-Stet is a California-based legal technology company made up of computer scientists, lawyers, and entrepreneurs. e-Stet's cutting-edge team enjoys pushing the legal tech envelope for its law firm and corporate clients with next-generation eDiscovery technology. The Los Angeles Business Journal rated e-Stet as the #4 best place to work in Los Angeles, and e-Stet has been on Inc. Magazine's 5000 fastest growing companies in America list for two years in a row. Please contact e-Stet at contact(at)e-stet(dot)com or visit http://www.e-stet.com for more information.
About kCura
Recognized as a "Leader" in Gartner's 2014 E-Discovery Magic Quadrant, kCura are the developers of the e-discovery software Relativity. Relativity has more than 100,000 active users worldwide from organizations including the U.S. Department of Justice and 195 of the Am Law 200. kCura helps corporations, law firms, and government agencies meet e-discovery challenges by installing Relativity on-premises and providing hosted, on-demand solutions through a global network of partners. kCura has been ranked the 175th fastest-growing technology company in North America on Deloitte's Technology Fast 500 and named one of Chicago's Top Workplaces by the Chicago Tribune. Please contact kCura at sales(at)kcura(dot)com or visit http://www.kcura.com for more information.