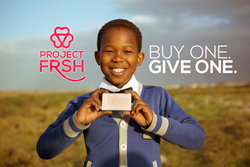 It's a movement for self-improvement, eco-consciousness, and social awareness for those around the world
Los Angeles, CA (PRWEB) March 13, 2015
FRSH (For Sharing Hope) is a "socialprise" (for-profit/social-enterprise) that provides children and families around the world with access to basic sanitation. Following the Buy One, Give One business model, FRSH offers organic, cruelty-free, and handmade in the USA soaps to backers of their Indiegogo campaign and in return, the company donates a standard bar of soap overseas.
"FRSH is all about giving back," said Joseph Whang, founder of FRSH. "It's not just a soap company, it's a movement for self-improvement, eco-consciousness, and social awareness for those around the world. Our core team continuously joins giving missions to developing areas without hesitation."
FRSH has partnered with the Hope Sharing Foundation, a 501(c) non-profit organization, to fulfill soap giving on mission trips and sustainability projects. Backers can also join the team on a giving mission to Africa on a trip scheduled for this fall by contributing for the $5,000 perk on the campaign. In the wake of the Ebola outbreak in West Africa, all funding from the campaign will benefit giving trips to the West African region.
FRSH's "menu" features a variety of soaps customized for specific uses and skin types. Soap bars of note include the Make-Off: a mild scented, all skin type activated charcoal detox soap bar, the Summer Love: a banana cotton candy & grapefruit scented, super shea, all skin type soap bar, the Pearl: a mild scented Castile olive oil & goat milk, sensitive skin type soap bar. Each soap bar is valued at $10 each and can be grouped in bundles of two or nine. Also available is a custom soap "loaf" of 10 bars where the team will work alongside backers to create their own organic soap loaf.
In line with their mission to create the most positive environmental impact, each FRSH soap bar comes in a plantable, eco-friendly package. Each package is handcrafted from double-recycled paper, printed with soy ink, and embedded with wildflower seeds; just add water and watch it grow!
FRSH's campaign is in the first week of the Indiegogo campaign, with a total of $3,371 in total funds raised against their $50,000 goal. FRSH soap bars are expected to be shipped and delivered within two to three weeks after the completion of the crowdfunding campaign.