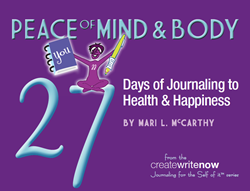 "This was a very positive experience for me, allowing me to reconnect with journaling after many years absence. I see how I was missing a place to vent, set goals, measure progress and explore ideas …"
Boston, MA (PRWEB) March 13, 2015
The spring session of CreateWriteNow's most popular journaling program, Peace of Mind & Body: 27 Days of Journaling to Health and Happiness is scheduled to begin April 1st, 2015.
Combining the discipline of daily journaling with the inspiration of creative writing exercises and prompts—along with the encouragement of optional online group participation—the program provides a unique journaling experience that takes participants on a step-by-step journey of self discovery, healing and growth.
Lauded for its straightforward approach and helpful structure, this gentle course leads journalers to greater self awareness through a natural, day-by-day progression while at the same time helping them identify and set goals to face down personal demons, overcome obstacles, and ultimately achieve greater happiness and health.
Now in it's fifth year, the 27 Days of Journaling to Health and Happiness Challenge, was created by Mari L. McCarthy, journaling therapy specialist and founder of CreateWriteNow, and is the company's most successful program to date.
Said Mari, "We are so excited about the response we've received for this program. Those who stay committed throughout the full twenty-seven days are truly benefitting from the wonderful rewards journaling provides."
Added Mari, "While the 27 Days Challenge is ideal for experienced journalers, all are welcome. Personal growth and development can be hard work, but this program makes it accessible to anyone who is ready to make the commitment to a daily journaling practice."
The 27 Days of Journaling to Health & Happiness Challenge is being offered free of charge to participants. The related eWorkbook will need to be purchased and is available in multiple formats. An eBook can be purchased at the CreateWriteNow store (http://store.createwritenow.com/peace-of-mind-and-body-27-days-of-journaling/) and is also available as an audio book, an email course, and as a download for Kindle, iPad, NOOK and Sony Reader.
Testimonials:
"I had been thinking about journaling for some time, but lacked the focus to get started. Mari's 27 Day Challenge gave me the structure to get pen to paper. On a deeper level, the progression of the themes each day helped me to recognize the patterns that keep me from being my best. Whether I wrote hundreds of words or jotted down a few sentences, each days' work brought me great insights. An unexpected bonus was the Facebook group for participants. Great to be on the journey with others!"
-Jenny Beatrice
"Mari's Peace of Mind and Body journal delivers what it promises. Her journal is succinct, straightforward, supportive and worth the investment. Her one page exercises speak to the heart and help anyone wanting to improve their world journal their way to health and happiness. I highly recommend it."
-Tanya Levy
About CreateWriteNow
CreateWriteNow teaches individuals how to use the power of daily journaling to achieve self-discovery, personal transformation and perfect health. Founded by Mari McCarthy, who has used the power of daily journaling herself to overcome many of the debilitating effects of Multiple Sclerosis, the company publishes regular articles, journaling prompts, videos and eBooks and holds a number of interactive journaling challenges throughout the year.
Learn more about the 27 Days of Journaling to Health and Happiness Challenge here: http://www.createwritenow.com/27-days-of-journaling-to-health--happiness-sign-up
Learn more about CreateWriteNow at http://www.createwritenow.com.
Contact: Mari L. McCarthy
mari(at)createwritenow(dot)com
(781) 635-5175
Twitter: https://twitter.com/CreateWriteNow
Facebook: https://www.facebook.com/CreateWriteNow
LinkedIn: http://www.linkedin.com/company/create-write-now
Pinterest: pinterest.com/createwritenow
YouTube: http://www.youtube.com/user/MariLMcCarthy/videos