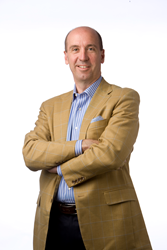 The best futurists are those who can identify trends and technologies that are 'way off to the side' today but will move from today's periphery to tomorrow's center.
Shelby, NC (PRWEB) March 17, 2015
Highly acclaimed education futurist, technology forecaster, and best-selling author, Jack Uldrich has been selected to deliver two keynote speeches at Cleveland Community College in Shelby, NC, on March 19th and 20th.
The materials presented in this lecture series are based on a combination of Uldrich's best-selling book, "Higher Unlearning: 39 Post Requisite Lessons for Achieving a Successful Future," and his latest book, "Foresight 2020: A Futurist Explores the Trends Transforming Tomorrow." The lectures are designed to provide education students, teachers and North Carolina based innovators with solid and thought-provoking ideas and practical strategies for life inside and outside of the academy. A sample of some of Uldrich's ideas on the future of education can be found in this chapter, The Future of Higher Education: A Cloudy Forecast, from "Foresight 2020."
Beyond addressing a number of educational trends, including open-source educational platforms (such as Coursera, EdX and Udacity), mobile web communications, interactive and customizable e-books, gaming dynamics, augmented-reality, artificial intelligence, and crowdsourcing; Uldrich also will tackle how these trends are transforming the student and teacher relationship and review what educational leaders must do today in order to get ahead of tomorrow's coming changes.
In his second lecture, "The Future Demands Unlearning," Uldrich will discuss why these future trends will require unlearning and provide an overview of how these technological changes are upending long-standing educational and funding mechanisms. Uldrich, who has been hailed as "America's Chief Unlearning Officer," will conclude the seminar by reviewing the consequences of not embracing the concept of "unlearning." An overview of his talk can be found in this article: 5 Trends of Higher Education.
Uldrich has addressed dozens of educational groups and associations, including delivering customized keynote presentations to EAIE, in Istanbul, Indiana University, The Council of Great Lakes Schools, The University of Minnesota's Carlson School of Business, Educational Services of America, Belmont University, The Chief Learning Officers Summit, The Minneapolis Public School System, The Teaching and Technology Conference, The League of Innovation, The California League of Middle Schools, and The American Technical Education Association. Uldrich has also addressed a number of major, non education-related corporations and institutions on the topics of future trends, change management and unlearning, including Wells Fargo, Verizon Wireless, ABB, Cisco, IBM, PepsiCo, United Healthcare, WiPro, and General Electric.
Parties interested in learning more about him, his books, his daily blog or his speaking availability are encouraged to visit his website. Media wishing to know more about either the event or interviewing Jack as a futurist or trend expert can contact Amy Tomczyk at (651) 343.0660.