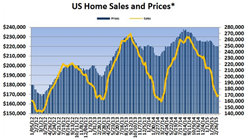 prospective home buyers to get approved for a home loan now while shopping for a home is still affordable
Chicago, IL (PRWEB) March 12, 2015
Lenders like Peoples Home Equity were pleased to see a rebound in median home sales. As shown in today's "National Home Sales Snapshot" from DQnews.com, weekly home sales rose 1,173 or 0.7%. Prior to this report, weekly home sales did not show any signs of growth since late January/early February. Sales also climbed on a year-over-year basis from up 2.1% versus a year ago last week to being up 2.6% versus a year ago this week.
Median home sale prices remained unchanged or the fourth consecutive week. Home sale prices also remained at 4.8% higher than last year, the same percentage as the prior two weekly reports.
Peoples Home Equity notes this 0.7% as the first omen of higher real estate activity to come in the spring. Yes, sales may decline for another week or two, but from this point on, there should be a growing number of home sales for the majority of weeks ahead until late August.
Peoples Home Equity thinks prospective home buyers should place attention to the strength home prices have shown. Home prices may not remain unchanged for the following weeks to come.
Peoples Home Equity strongly encourages prospective home buyers to get approved for a home loan now while shopping for a home is still affordable. Not only should buyers pay attention to the current trend in sale prices but also mortgage rates. Prospective buyers should note that the Federal Reserve plans on raising interest rates later this year which will raise the cost of borrowing overnight by lenders. Prospects that get pre-approved for a home loan now while listing prices and mortgage rates remain lower than in expected future months will gain an advantage. Shopping in a less competitive environment, means better bargain bidding on properties, ad more attentive real estate agent, and a more affordable mortgage.
If in need of a mortgage, contact a Peoples Home Equity loan officer today at: 262-563-4026